ANNOUNCEMENTS
Janet Receives
Rural Roots Archive
CD Award for 2014!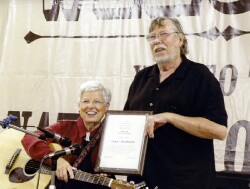 Please click to see a larger version.
From Janet on September 8 in response to the webmaster's questions concerning the award: [This is the] first photo to show from Le Mars Traditional Country Music Association Archives CD [Award] of the Year 2014. It is for the HERE I AM CD. It was taken by Walt Pogue.
[It was awarded to me because it contains] all re-issues of the 1980's and 1990's, and the fact that it is ALL OLD TIME COUNTRY MUSIC FROM THAT ERA - and they liked it.
They missed 'any yodeling' but all of the older cuts of yodeling were re-mastered and put onto the 50 Years CD - so none of that, or same with the old Gospel cuts.
The only reason Who Is This Jesus Person got on this CD is that cut of that song was never on anything but a cassette so it got on there.
Beautiful Award for sure.
Wyoming Rose was there "just because" I wanted to give it another shot.
Everything was old but that one and the Bluebonnet song. It was truly a "bucket list" Item. It began the journey when Phil York completed the project and it was so Good. When I asked Mary to help with the art work, etc, we were on our way.
I will have other photos ASAP. It was a fun time.
Janet's Visit To
"John's Place"
In correspondence on September 16, Janet mentioned her early week activities, and included a few words about her trip to "John's Place." They were so moving that this webmaster just had to include them on our "Notes From Janet" page, which you can see by clicking here.
Ginny Mac On
AccordianAmerica.com!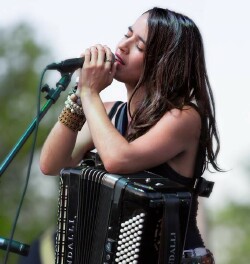 Please click to see a larger version.
A former Buckaroo, and mentee of both Janet and Devon Dawson (though mostly Miss Dawson, according to Janet), Ginny Mac is on the rise in her career. She appeared on CMT's "A Cowboy Country Christmas," which was broadcast in 2003 and hosted by Clint Black. Janet's number "Santa's Yodeling Song" was featured in that show.
On September 3rd, 2014, AccordianAmerica.com did a very nice write-up on Ginny. You can see it by going to this link. Congratulations Ginny Mac for all your success!
LeAnn Rimes Performs
On MDA Telethon 2014!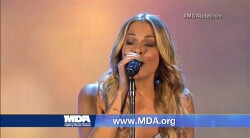 Please click to see a larger version.
LeAnn sang this year on MDA! In fact, she closed the show! You can see that performance on YouTube by clicking here. Says the description on that YouTube page:
Published on Aug 31, 2014
Alyssa Milano, star of the ABC hit series "Mistresses" Alyssa Milano introduces a special tribute to America's Heroes - firefighters - by Grammy winner LeAnn Rimes.
Way to go LeAnn, MDA, and our Janet for her decades-long service as mentor to so many!
Hayloft Gang Program
Aired on PBS - KERA
In the Dallas Area!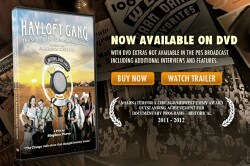 Please click to see a larger version.
Janet sent the following Email on August 23 regarding this program:
SET YOUR DVRS TO WATCH THIS GREAT DOCUMENTARY.
For everyone who isn't old enough to remember how great [were] the early days of 'COWBOY, COUNTRY AND WESTERN SWING AND WHERE IT BEGAN' BE SURE TO WATCH THIS PBS SHOW.
I DID HELP THEM WITH FINDING SOME GREAT OLD STARS AND FURNISHED THEM WITH SOME NEVER SEEN CLIPS OF PATSY MONTANA. YEP, AT THE END THEY PUT JOHN'S AND MY NAME
Also remember that Mikki won the world wide contest and got her BEAUTIFUL MARTIN GUITAR FOR WINNING THE WHOLE THING.
Don't miss it. Janet
Added Janet on August 26:
THIS PROGRAM IS LISTED AS 'THE HAYLOFT GANG' AND IS ALL ABOUT A GREAT EARLY SHOW OF OUR TYPE OF MUSIC.
STARS WHO STARTED THERE WERE GENE AUTRY, PAT BUTTRAM, PATSY MONTANA, GEORGE GOBEL, LULA BELLE AND SCOTTY, THE PRAIRIE RAMBLERS, ETC. THEY WERE ALL THERE FROM THE 1930'S.
Here is the message from Mr. Steve Parry sent earlier:
Hi Janet,
I hope all is well for you. I just wanted to let you know that The Hayloft Gang documentary is going to air on KERA (Dallas PBS) on Thursday, August 28th at 10:00 PM.
Please help us to spread the word to folks down in your part of Texas that might be interested in this program
Also the DVD with Extra content is now available from our website (www.hayloftgang.com).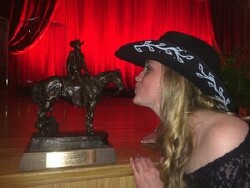 So happy to see that Mikki Daniel's career is doing so well. We like to think that our Hayloft Gang Video Contest played some small part in her success, and of course, the Martin she won.
I know that your mentoring has been very instrumental to her career.
Take care,
Stephen Parry
Producer: The Hayloft Gang
The above photograph of Mikki is of her NEW HORIZONS WRANGLER AWARD, won April 12th, 2014, and is on her website.
Happy Birthday
LeAnn Rimes!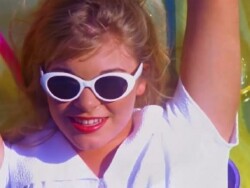 August 28, 2014 is LeAnn's thirty-second birthday! The photo above is from her "Blue" video, and was used in VH1's Twitter feed to advertise "The LeAnn and Eddie Show" on that network.
LeAnn will sing her song "Give" on Sunday, August 31, 9/8c PM on the MDA Telethon. Here is a link to an article which gives some details.
Congratulations LeAnn, and have the most wonderful of birthdays!
CHANGES IN
CONTACTING JANET
This webmaster is sorry, but, as explained in our ordering sections on this page and the Orders page, the forms we used to use to contact Janet were generating from 50-75 spam Emails a day. Each one had to be examined closely in case it came from you, one of Janet's fans.
We have therefore removed the forms, but left the Emails with which to contact Janet or Pat Boileson, Fan Club President. We've also included product price information on Janet's new CD, "Here I Am."
Two Songs from
Janet's New CD
"Here I Am!"
Picking sample songs from Janet's new CD was a difficult task, as there were so many favorites. Chosen were two that were not already on this website. You can click the little speaker icons to listen.


Who Is this Jesus Person?


Like You Did
Note from the webmaster on "hurtin' songs:" on the inside of Janet's CD, Tex and Mary Schutz refer, with great reverence, to Janet's "crying-hurting" songs. After years of theological studies, this webmaster would like to point out that these songs suggest a Standard of Right-ness.
In each one that Janet wrote, there is the teaching that a happy relationship, with loyalty and dedication, are the Right way to enjoy Romance. Congratulations to Janet for finally meeting her John Ingram--who fulfilled, for her, that teaching.
We will forego placing these on our Audio Page until after the webmaster has upgraded his computer system.
Latest News From Janet!
On August 12, Janet sent in several photos from her weekend at the Burtons Bend Music Festival. You can see larger versions of the ones above by simply clicking on them. Below are her words in explanation:
[Here are some] photos from this weekend. The first set has a good photo of a 'fan' [Elna Banzhaf] and [the second] set has Alexa and I on stage.
Got home yesterday about 2 pm and now trying to gather stuff, put up stuff, catch up on emails, gather in a new 'hopefully' Buckaroo and just some rest also. I'm OK. Me
Below is the message Mrs. Banzhaf wrote when she sent in the pictures.
HERE ARE SOME PHOTOS THAT I TOOK YESTERDAY. THE COLOR ISN'T VERY GOOD ON SOME OF THEM DUE TO THE COLORED STAGE LIGHTING BUT ENJOY THEM ANYWAY. I CAN'T THANK YOU ENOUGH FOR SUGGESTING THAT THE TWO OF US HAVE OUR PICTURE TAKEN TOGETHER. IT MEANS THE WORLD TO ME.
THANKS A MILLION FOR THE CD THAT YOU GAVE ME. I HAVEN'T SEEN EITHER OF THEM YET BUT WILL SOON. I'M VERY TIRED TODAY, PICKED UP MY PHOTOS FROM THE FAIR AT NOON AND ATTENDED THE 4-Y STYLE SHOW AT 1:00. I'M READY TO CALL IT A DAY.
I CAN'T IMAGINE HOW EXHAUSTED YOU MUST BE AFTER THE LONG DRIVE TO HOLBROOK, PERFORMING TWO DAYS, ETC. DO KEEP IN TOUCH.
LOVE, YOUR FRIEND, ELNA BANZHAF (BONSHAW)
FYI: we also have some recent information on several of Janet's mentees. You can go to that secion of this page by clicking here.
Fan Club News!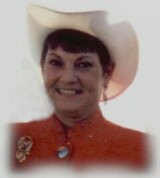 Pat Boileson recently mailed out the **Summer 2014** Fan Club Newsletter. This was the ten-year anniversary issue, and contained all sorts of throw-back photos and other memorabilia. Also featured is news from Janet's proteges, as well as the latest on Janet's new CD and her "A Cowgirl's Dream" video by Mary Schutz on YouTube.
Thank you, as always, Ms. Pat for your hard work regarding Janet, and congratulations on your own musical success!
JANET'S NEW CD AVAILABLE!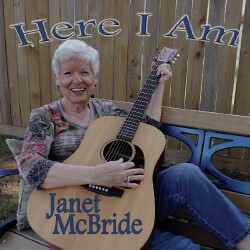 Janet's new CD "Here I Am" is now out of production and ready for purchase! On it are twenty-seven songs, with one brand new release.
The new number is "The Lottery," listed as song #17. The rest have been remastered and re-issued, the mastering done by the late Phil York, who produced Willie Nelson's "Red Headed Stranger."
To order this CD from Janet, just send $15 PPD to the address listed immediately below:
Janet McBride
P.O. BOX 850351
MESQUITE, TX 75185-0351

You can contact Janet via her Email by clicking here.

Janet previously forwarded pictures of the front and back of this CD, which was produced by her friend Mary Schutz. With both photos you can click for larger versions.

There is a story to tell about "Here I Am" -- why Janet chose the songs she did, where they came from, and more. We plan to present that story, in detail, after the webmaster upgrades his computer system.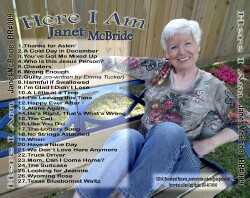 Janet's Friends at the
2014 CMT Video Awards!
On Wednesday, June 4, 2014, CMT broadcast their annual Video Awards show, and four entertainers attended who have connections to our Janet!
Kacey Musgraves and Lee Ann Womack sang a duet to honor Alan Jackson, and you can see two photos of them above. Amber Carrington was in the audience with her date, Dran Michael of Dran Michael Productions.
The following day, LeAnn Rimes cut the ribbon for the opening ceremonies of CMA Fest, 2014. She tweeted: Thx country fans @CMAFestVIP for the best time I've ever had at CMA Fest. Loved seeing you all. Thanks for all your love and support.
That same day, Kacey tweeted: Wake up. Eat food. Play show with @AlisonKrauss and @willienelson. WHAT IS LIFE?!
As most people know, Janet either mentored or helped in some way LeAnn Rimes, Lee Ann Womack, and Kacey Musgraves. Amber Carrington appeared as a star at the Rodeo City Music Hall, which often featured Janet and was held at the same building as was once her Mesquite Opry. Congratulations to all involved in these beautiful careers.
You can bring up larger versions of any of the photos immediately above by clicking them.
New Mikki Daniel Page!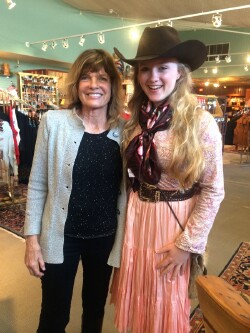 Please click to see a larger version.
We've added a new tribute page for yodeling champion Mikki Daniel, one of Janet's mentees who has risen to Champion Yodeler status on many fronts. She is also the featured model in Janet's new video of "A Yodeler's Dream," with Patsy Montana (mentioned below).
You will see an explanation regarding her photo with Katharine Ross (above), as well as more photos, information regarding a recent concert, and links to her website and Facebook page.
Links to her tribute are now on the bottom of each of our website pages. You can see it by clicking here. Thank you so much, Mikki, for all you've done and all you're going to do!
Janet's Throwback Photo:
1998 Buckaroos!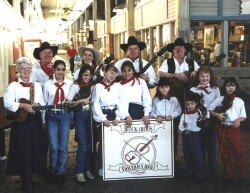 Please click to see a larger version.
Says Janet May 22, 2014:
THIS IS A PHOTO FROM A 1998 BUCKAROO PERFORMANCE
Misty Sereff is in it plus Sally Wallace, Kelly Bullock, Michael Slayton (little boy), Brooke Wallace, Ginny Mac, me, Devon, Chuck, Paul Wallace, Rachael Werline, Cristy Kibbler…
A blast from the past for sure.
Many thanks to Miss Devon Dawson for sending the picture!
Janet's Original Song
"A Cowgirl's Dream"
Featuring Patsy Montana
Now a Video on YouTube!
Says Janet: This is just finished. Mary Schutz did the work. The young girl is Mikki Daniel.
Check out all of the clips of Patsy which are some of the stuff we pulled from the 16mm and 8mm film in her closet. Just too cool.
You can view this video by clicking here.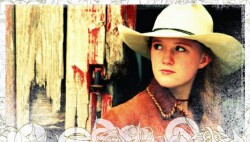 You can see what Mikki wrote about Janet in her "First-Quarter" 2014 Newsletter on our new Mikki Daniel tribute page here.
There are, obviously, many things to add about the making of this video. As with the new CD above, that information will be coming soon. In the meantime, you can see what Janet wrote about the creation of her song "Yodeler's Dream" (posted on Roy Tucker's website) by clicking this link.
Janet Featured In
Cowtown Opry Video!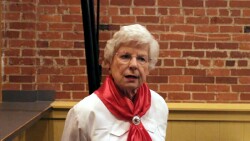 Please click to see a larger version.
Janet said: "this is a project a couple of kids did for their school 'special assignment.'" It is quite interesting, and features Janet as a spokeswoman. You can see the video, posted by Moose and Goose on YouTube, by clicking here.
Janet's Song "Mama"
Now a Video!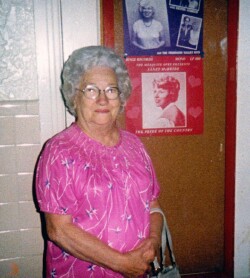 We just put together a video of Janet's song "Mama" with various photos of her mother through the years. You can see that video on YouTube by clicking the photo above. You can stream it from our own server with a computer by clicking here.
Says Janet: Mama lived to be 92 years old and although she never heard this song, I know she's smiling down on me each day. All of us kids loved our Mama.
In Memoriam
John Ingram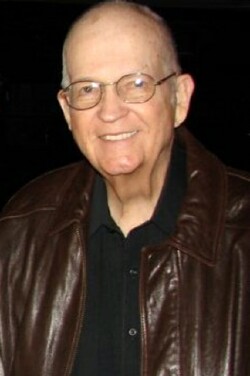 Please click to see a larger version.
On December 22, 2010, Janet's husband John Ingram went home to be with the Lord. Just a few days before that, he was with Janet and their granddaughter when this photo was taken. Here are Janet's words:
We all commented that night at how great John looked and how he was able to climb the stairs at the restaurant and how happy he was.
I had not seen this photo until last week. I did not take the camera that night but this photo was taken by Devri McBride. It was her Birthday dinner at a restaurant in Dallas.
How cool is that photo?
You can see all of our tribute information regarding John by clicking either here or on the menu button to the upper left entitled "John." Thank you, Devri, for sharing that picture!
---
MENTEES OF JANET
LeAnn Rimes and
Husband Eddie Cibrian on
VH1 This Summer!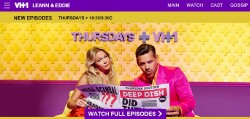 Please click to see a larger version.
Our LeAnn is being featured with her husband Eddie in a special reality show "LeAnn and Eddie" on VH1 this summer on Thursday nights. You can visit the website for that show by clicking this link. It is a fascinating look into their relationship, chemistry, and sense of good humor!
Mikki Daniel
New Logo!


Please click to see a larger version.
Mikki Daniel sends out emails to her Email list with announcements of upcoming events. The most recent included the logo above, which was new to this webmaster.
You can join Mikki's email list, or send her an Email yourself, by clicking on the picture below.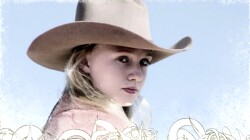 Kristyn Harris
In the News!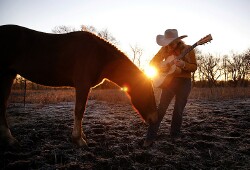 Please click to see a larger version.
Kristyn stated on Facebook that she was in the news, then gave a link to a nice long article on her with the picture above. You can see that article by clicking this link. Congratulations yet again Kristyn!
Kristyn Harris
August, 2014 Schedule!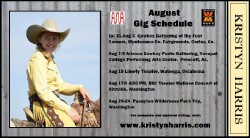 Please click to see a larger version.
Kristyn just announced on Facebook that her friend Doug Grady is making these beautiful graphics each month to announce her itinerary. Way to go, Kristyn!
Mallary Hope
Is Expecting!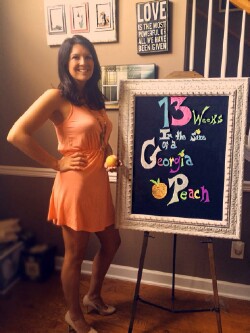 Please click to see a larger version.
Mallary Hope recently announced that she and her husband Ryan are expecting! Congratulations to the happy couple!
Kacey Musgraves
In Glastonbury, England!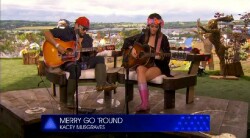 Please click to see a larger version.
Our Kacey visited Europe in June and performed there. You can see a video of her with her boyfriend singing "Merry Go Round" by clicking this link. Nice going, Kacey!
---
MORE ON JANET
Janet Throwback Photo
With Chandler Bennett and
Kacey Musgraves!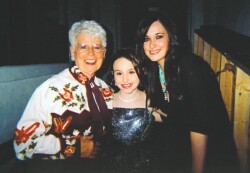 Please click to see a larger version.
When we did a blurb about Chandler Bennett visiting Amber Carrington, Janet sent the above photo with the following message:
Got to thinking I had a photo from 2008 of Chandler and found that Kacey was in it also. Amber was at that show as well.
Janet on Twitter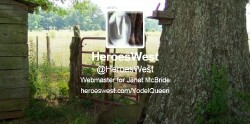 Our Janet is far too busy to maintain a Twitter account herself, but this webmaster posts photos of her under the HeroesWest brand.
If you have a Twitter account, just search with hashtag #JanetMcBride, then click "all," and you will see the postings listed.
Mesquite Opry DVD!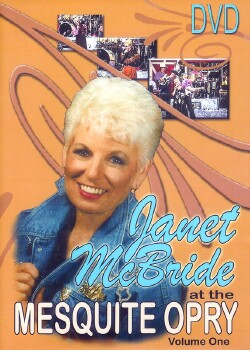 Janet's friend and biographer Mary Schutz created a DVD with clips from various Mesquite Opry performances! By clicking either photo above and below you can get larger views. If you're interested in purchasing a copy of this DVD, you can go to Mary's website for Janet here, and scroll down the page. You will see several other products by and about Janet. Each one can be purchased from Mary's website through PayPal.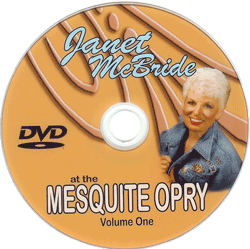 Janet's Biography on Amazon!

You can now purchase Janet's new book, Still Lovin' the Ride, on Amazon! Just click the screen grab below.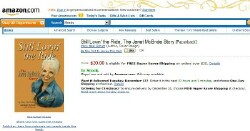 You can also download two of Janet's mp3s from Amazon by clicking this link, or several of her CDs by clicking here. Congratulations Janet!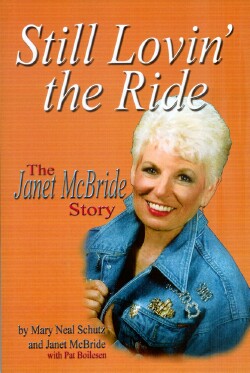 Janet is grateful for the response to her new book. You can see larger versions of both front and back covers by clicking the photos above and below.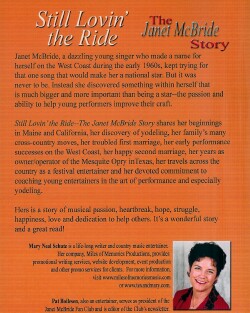 She worked for nearly two years with both Mary Schutz and Pat Boileson to create this very interesting, entertaining, and informative biography of her life. Ms. Schutz is a web designer in her own right, and has decided to create a website for Janet and this book. You can learn much about both when you visit that website by clicking the picture below.

Janet says of this new site: "It is meant to put the book out where it can be seen and purchased hopefully." Congratulations to Janet, Mary, and Pat!
You can now order this book, or the "Still Loving the Ride" CD, by choosing radio buttons on our order submit form! You can also see a list of product prices just above that form.
-o-