ANNOUNCEMENTS
Historic Picture of
Patsy Montana
December 7, 1941!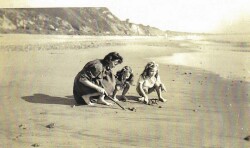 Please click to see a larger version.
On a recent vacation trip to Alabama, Janet received this photo of Patsy Montana with her daughters Beverly and Judy. Here are her words:
Hi Paul, this photo was taken December 7, 1941 moments before the authorities told everyone on the beach to leave the area and told them of the ATTACK ON PEARL HARBOR.
This beach was probably Santa Monica or anywhere along there.
I picked up the photo from Patsy's Daughter Beverly who is in the photo.
I also think that photo is a 'Treasure,' a 'Moment in Time,' or an example of WHAT AMERICA WAS DOING ON THAT DAY AT THAT VERY MOMENT.
We plan to have more photos from Janet's trip at a later date. Here are her similar words written while still on vacation, about a week before the message above:
I got a few photos of Patsy Montana with one special photo taken on Dec. 7th 1941 only a few minutes before the authorities told them to get off of the beach due to the attack on Pearl Harbor.
I believe it is a classic shot of life only moments before the world changed forever.
Janet's Mentees
At Turkey, Texas
For Bob Wills Day!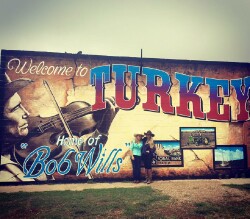 Please click to see a larger version.
The end of April was a big weekend for Janet's Mentees. Kristyn Harris and Ginny Mac both appeared at the Bob Wills Day festivities in Turkey, Texas. If the webmaster is even remotely correct, that gal standing next to Kristyn in the picture above could be Mikki Daniel.
Also, April 29 was Willie Nelson's 83rd birthday, and Kacey Musgraves tweeted her greetings. This same day was Charlotte Autry's 21st wedding anniversary. And, just days before that one, Mallary Hope announced that she is carrying her second child. Congratulations to all!
Happy Anniversary
LeAnn and Eddie!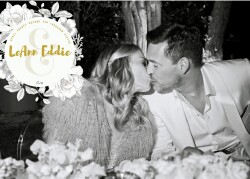 April 22, 2016 was the fifth wedding anniversary for LeAnn and Eddie. With the photo above, LeAnn wrote:
Happy 5 year anniversary to my lover, my friend, my heart, my everything! We have walked through hell and back to be together and wouldn't change a thing. Our bond is like no other. I cherish you!
#anniversary #5years #happy #lovers #friends #myheart #flashbackfriday #fbf
Below is a recently discovered picture of LeAnn and Eddie years ago. With that one, she commented:
I was 14, he was 23. We don't remember meeting. He found this in the garage while going through boxes. 14 years later who know we'd meet again. Crazy, all the life that happened between those two encounters, the lessons that needed to be learned.
Fate? Chance? Serendipity? Who knows? All we do know is, here we are together and tomorrow we are celebrating 5 years of being married and we wouldn't want to be anywhere else.
#crazylove #lovers #friends #partners
#hubby #anniversary #5year
#throwback #throwbackthursday #tbt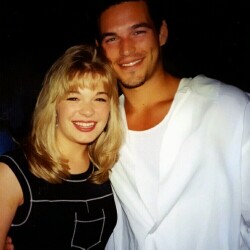 You can see larger versions of either of the two photos above by clicking on them. Congratulations to you both, LeAnn and Eddie! What wonderful words to express your love!
EZRAH NOELLE
ON NBC'S
LITTLE BIG SHOTS!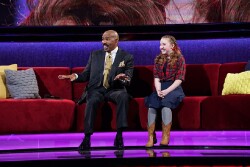 Please click to see a larger version.
On Sunday, April 17, Ezrah Noelle did appear on NBC's "Little Big Shots." On April 15, Janet had posted the following on Facebook:
Be sure to watch little big shots on NBC this Sunday. They changed Ezrah's scheduled date. Singing a Janet yodel song.
We will have photos Miss Noelle posted of our Janet on Facebook soon. You can see an excellent video of her performance on YouTube here. You can watch Ellen Degeneres introduce this segment on her daytime show by visiting this link. And you can read a Branson, Missouri article about Ezrah's appearance here.
2004 Throwback Photo of
Janet and Kata Hay!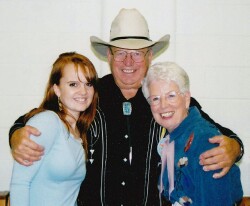 Please click to see a larger version.
As most of Janet's fans who follow "The Voice" on NBC know by now, our Kata Hay only made it through the April 13th broadcast, sadly. But we are still proud as punch of her appearance and over-the-top performances.
Janet wrote this before Kata's appearance: I hope Kata survives the cut tonight but it is all on the votes and I just can't judge that stuff.
Being on that show has given her some experience 'world wide' and that is something she could never have had and there is no telling what it will to help her in the business. She is 28 years old and I hope she has a path in mind for her future.
Above is a photo that Janet sent, which is most likely from the Rex Allen Days Festival in Wilcox, Arizona during October of 2004. Pictured are Kata, Lowell Lydic, and Janet. Kata was gorgeous then, and she's gorgeous now.
Way to go Kata Hay!
Merle Ronald Haggard
April 6, 1937-April 6, 2016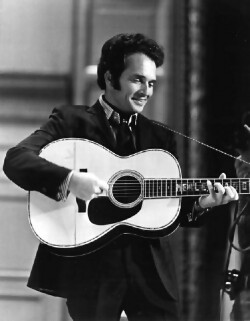 Please click to see a larger version.
The world lost one of the greatest country singers of all time on April 6th. Janet had these words to say:
Merle Haggard was a special talent and he came to light at a perfect time. He and WynnStewart came along at the same time and they were close friends. They were Country and at the time when Nashville wasn't.
Nashville began changing the 'sound to what would sell. MONEY was out there to be made by publishers, and recording companies knew they had to bring the music to some new ears so 'modern country' sound began.
Buck Owens and Merle Haggard and the Southern California Sound surprised Nashville and it took a few more years to bring about the change, but as the older lovers of 'Real Country Music' pass away so does Real Country Music.
The Loss of Merle Haggard is a tremendous blow to his fans. His music will live forever and then one of these days someone will come along who LIKE MERLE, WILLIE, WYNN, and others won't let the 'MACHINE' change who they are, and what they record.
Success and money are wonderful but NOT if you have to 'give up' who you really are. But we all see it happen every day so 'we wait' for the next great voice to come along.
Several of Janet's mentees posted condolences in social media on the day Merle passed:
LeAnn Rimes Cibrian@leannrimes · Apr 6
Saddened by the loss of Merle. We lost a bad ass man, a great poet! I love you Merle. Prayers for his family. R.I.P.
#MerleHaggard
Charlotte Autry@CharlotteAutry · Apr 6
RIP Merle Haggard.. We'll see you on the other side.. Love and prayers for his friends and family..
OkieFromMuskogee #RIP #MerleHaggard #TheHag
Along with the photo immediately below, Kata Hay had this to say:
KATA HAY@katahay
Merle.... I'll never forget my time with you.... Miss you my friend... I'll be your Mary forever.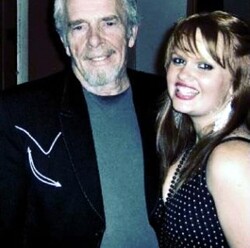 Please click to see a larger version.
Mr. Haggard was definitely a man of Faith, as this webmaster saw him perform on Dr. Gene Scott's program years ago. Thanks, Merle, for the memories.
Kacey's Late, Late Show
Performance!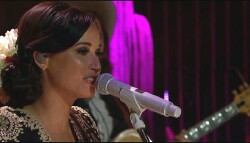 Please click to see a larger version.
Above is a screen grab from the YouTube video of Kacey Musgraves' song "High Times," performed on the Late, Late Show April 6th. You can view that video by clicking here. As always, Miss Kacey, it's a joy to see you perform!
HAPPY BIRTHDAY
JANET!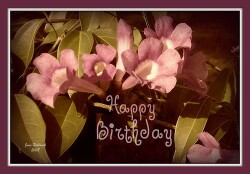 Janet's birthday was on April 5th! Here are her words on the celebration:
Because of Facebook, I heard from Hundreds of Fans and Friends from all over the WORLD, and it has been amazing.
Some of my 'mentees' are now graduated/graduating from some of the best colleges in the country, which means this music, and even yodeling, will go on.
It was a wonderful day.
Immediately below is a photo from the festivities of Janet with her son Claude.

Please click to see a larger version.
Many thanks to www.pictures88.com for the lovely birthday graphic above.
Kacey Musgraves on
The Late, Late Show and
In Selfie With Dolly Parton!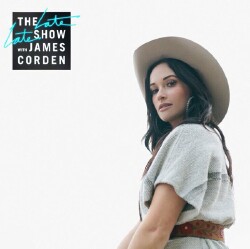 Kacey announced, on Twitter, her appearance on the Late, Late show with gusto! On April 5th, Kacey retweeted the following:
CMG Radio @CMGRadioShow TUNE IN ALERT:
@KaceyMusgraves set to appear on the @latelateshow tomorrow, alongside @melissamccarthy!
Below is the promo pic published the day before Kacey's appearance, and is included because it's one of the webmaster's favorites. The above picture was posted on the day of her appearance. With both, clicking will give a larger version.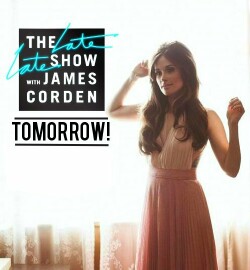 -o-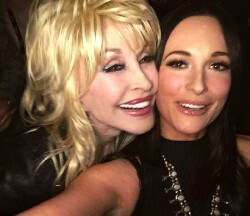 Please click to see a larger version.
As you may know, Kacey introduced the duet by Dolly Parton and Katy Perry at the ACMA broadcast on April 3. Somewhere the day before she was able to get this picture, and it flew its way to our Janet, who wrote briefly:
Wasn't that a great pic. I wondered if she would get a chance for a photo like that but, she sure did. Her manager sent it to me. I was thrilled/as thrilled as you are.
When Kacey posted this picture on Twitter April 2nd, she added the following words:
A Dimestore Cowgirl, Backwoods Barbie & a Teenage Dream! Presentin a FUN @ACMawards bit tmrw! @DollyParton @katyperry
What an amazing circumstance! Three phenomenal songwriters joined together by the sharing of this photo!
Janet to Appear at
The Texas Heritage Festival!

Janet announces that: I will be with the Cowtown Opry Saddle Pals and Buckroos at a performance from 10 AM to 3 PM on June 4th at the Heard Museum in McKinney.
This engagement is called the "Texas Heritage Festival," and you can get more information by clicking here. Congratulations Janet on yet another event for 2016!
Kata Hay Scores Again
On The Voice!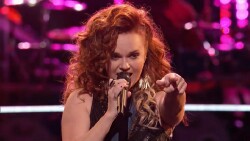 Please click to see a larger version.
On Monday, April 4th, Kata advanced another round on "The Voice." You can see the video of her performance by clicking here. The YouTube notes from that page state the following:
Published on Apr 4, 2016
Kata Hay delivers a fiery performance of a Reba McEntire song to stay on Team Christina.
Congratulations, Kata, and keep it going!
LeAnn Rimes Appeared at
Billy Bob's Texas
April 8, 2016!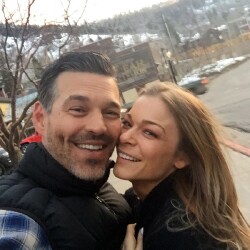 LeAnn announced her concert tour on April 4th via Twitter with: Join me "Under the Influence" w/ music from some of my Legendary TX music heroes & friends: http://www.leannrimesworld.com/live.
Below is the logo graphic for LeAnn's tour, and above is her picture with husband Eddie Cibrian posted March 30 with simply: Vacay #SpringBreak #snow #familytime.
You can go to LeAnn's concert list by clicking the link above, and see larger versions of both photos by clicking them. Welcome back to Texas, LeAnn and Eddie!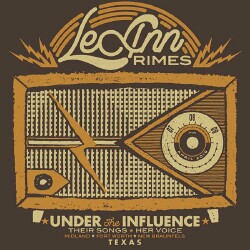 Chelsea Beck News!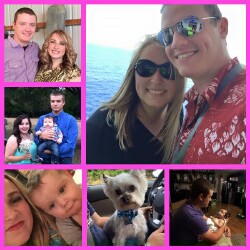 Please click to see a larger version.
Chelsea Beck Johnston posted on Facebook April 3rd: I am so excited to officially announce that I have passed my Praxis exam for Speech-Language Pathology! Graduation cannot get here fast enough! #blessed #hardworkpaysoff
She posted the photo above as a summary for her year of 2015, and added these words: 2015 has been very good to us! I think our favorite part was becoming Auntie Chelsea and Unca Shane to Mr. Luke Ryan Beck! Can't wait to see what 2016 brings! — with Valerie Beck and Schuyler Beck.
Congratulations, Miss Chelsea, for all that's been happening in your life!
Janet Appearing at the
Gene Autry, Oklahoma
Museum
July 30, 2016!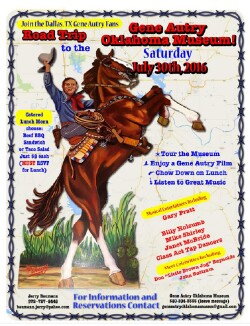 Please click to see a larger version.
Janet recently announced on Facebook that she will definitely be attending the Gene Autry Museum per the above poster. Just click the image to get the details.
Ezrah Noelle on
NBC's "Little Big Shots"
April 24, 2016!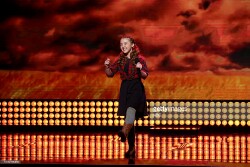 It's been several months of keeping this "under our hats," but we can finally announce that long-time mentee of Janet's, Ezrah Noelle, will be appearing on NBC the last Sunday night of April! The picture above is a publicity photo by NBC and Getty Images.
You can follow Miss Ezrah at @Ezrah Noelle10 on Twitter, and you can visit NBC's website for the program at this link.
Below is a screen grab from a precious YouTube video of Miss Noelle posted June 8, 2011. In it she sings "Cowboy's Sweetheart" with outstanding choreography in her gestures. The link to this video is here.
YouTube user gecheek posted the video, and here are her words of description: She has so much fun with this song! On our way to Branson with it where she'll compete at National Finals and also get to sing in the Clay Cooper Show!!! She won Overall in the Country category for this act. Competing against teenagers is hard so this was a great honor!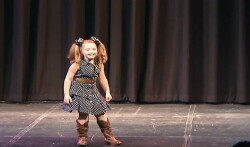 For both these photos, you can see larger versions by clicking on them. Congratulations Miss Ezrah, Miss Janet, and all who are involved with this wonderful occasion!
Kristyn Harris Appears
With the Light Crust
Doughboys
In Mesquite, Texas!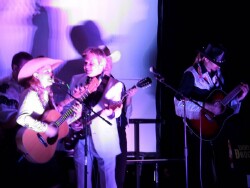 On March 31, Kristyn appeared at the Mesquite Arts Center in an outdoor concert with the Light Crust Doughboys. What a privilege to finally have her in Mesquite, Texas!
Here are some photos from that concert. With both, you can see larger versions by clicking them.
Janet with Red Steagall
And the Buckaroos!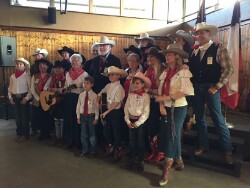 As noted below, when Red Steagall appeared at the CTO Gala March 12, 2016, he stayed and also appeared with the Buckaroos the following day. The photo above was taken on one of those days, and posted by Dawn Rae Glass Wiseman on her Facebook page. Below is a picture of Mr. Steagall with his significant other from their page.
Said Janet of the experience: We had a wonderful Gala and Red Steagall and wife Gail were wonderful.
Here is what Ms. Wiseman stated about the photo above: Gail Page Steagall thank you for sharing the night with us. — with PhilPat Ste Marie, Nolan King, Janet McBride, Teresa Lowe Walton, Mikki Daniel, Johnie Terry and Bob Terry.
And Mrs. Steagall was kind enough to respond with: What a great night! Red and I so appreciate everyone who made such a nice tribute to his life work. ....especially loved the hard work and talent of all who learned his songs and presented them so ably! We were so impressed!! God bless you all for what you do for western music.
You can see a larger size of each photo by clicking on it. What a weekend! What an honor!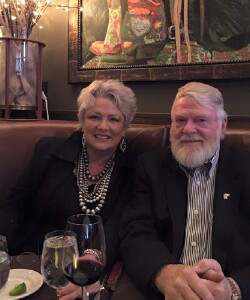 Kata Hay Rocks
NBC's "The Voice!"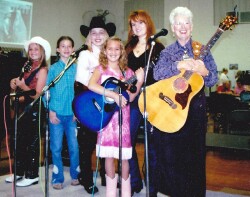 Please click to see a larger version.
The uber talented Kata Hay, whom we've featured on this website for many, many years, broke out nationally (again) on February 29 when she took the stage on NBC's "The Voice." Said Janet on the 22nd:
WE CAN FINALLY SAY KATA HAY IS ON THE VOICE
YIPPEE
This news had to be kept a secret until authorized by the network. Kata's alliance with Janet in both singing and yodeling is a long-standing one. For example, above is a photo with Janet, Kata, Chelsea Beck, and several others at the Gene Autry Museum in Gene Autry, Oklahoma--taken back in 2004.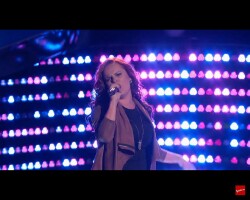 Please click to see a larger version.
You can see Kata's debut on YouTube by clicking here. Congratulations, Kata! Your perseverance over a lifetime paid off.
Red Steagall Article
In Indulge Magazine !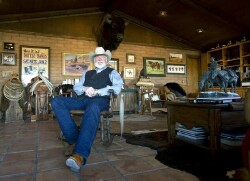 Please click to see a larger version.
On March 4, 2016, CTO Chairwoman Sonya Howeth announced an article by Cowtown Opry friend Mary Rodgers. Here are her words:
Friends,
Fantastic jounalist and friend/supporter of Cowtown Opry, Mary Rodgers, has done it again! She has written a compelling and enlightening article about our 2016 Gala honoree, Red Steagall.
This past Wednesday I picked up a copy of Indulge Magazine and found the 3 page article complete with beautiful pictures. I hope you have a chance to pick one up and take a look.
The article will be run a second time on Sunday in the Star Telegram's Life and Arts Section.
A big thank you to Mary for promoting Red and the Gala for us in this way!
Sonya Howeth
2016 CTO Gala Co-Chair
You can view this piece online by clicking here. Thank you Mary Rodgers for your fine work and loyalty to the Cowtown Opry!
Janet's Mentee To Appear
On Little Big Shots!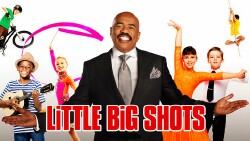 Please click to see a larger version.
Janet will have a mentee on the upcoming NBC show, "Little Big Shots." Says Janet:
I don't think we can say their name yet BUT ... I bet we can tell folks to tune in to the LITTLE BIG SHOTS show!
You can visit the show's website for details as to beginning date, etc. by clicking here. Congratulations yet again to our Janet!
Mikki Daniel Wins
Rising Star Award!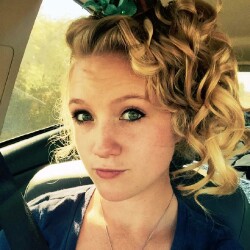 Mikki Daniel just posted an announcement regarding her win of the Cowtown Society of Western Music's Rising Star of the Year Award for 2016! Below is the photo she posted of the announcement (you can see larger versions of both pictures in this section by clicking on them).

Here is what Mikki wrote as she posted the snapshot of this announcement:
I am so honored to be considered a CSWM Rising Star of the year by the Cowtown Society of Western Music!
I can't wait to attend the Swing Fest on the 7th of May--a day of continuous celebration of Western swing and traditional music! Woohoo!
To accompany her Facebook profile picture submitted in January of this year, Mikki composed this:
I was reading my Bible this morning, and I ran across this verse for the um-teenth time. Only this time it really struck a chord within my soul.
"Let no man despise [make fun of] thy youth, but instead be an example of Christ to them: in conversation, in charity, in spirit, in faith, in purity and in kindness."
--1st Timothy 4:12
I pray that the Lord helps me to always be "an example of the hope that is within me"! May the Lord bless your day today!
Congratulations, Mikki, and thank you for your sweet testimony!
Janet To Host
The Buckaroos
March 13, 2016!
Normally, the Buckaroos do not meet during the same month as the "Gala" concert, referenced below. But this year they will. Here are Janet's words:
The board did add a March Buckaroo Appearance for the first time and it will be Sunday March 13th. Yep, I will be there as usual on that Sunday
Red Steagall will definitely appear [the night before] and will take the stage for a 'cameo' appearance. He is a Legend and we are so proud that he will be our Honored Guest.
Red Steagall and
The Cowtown Opry
March 12, 2016!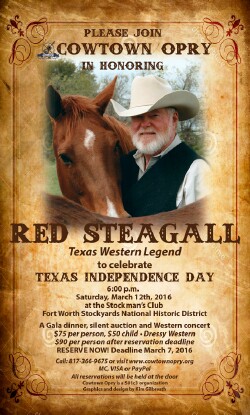 Please click to see a larger version.
Sonya Howeth, Co- Chair for 2016 Cowtown Opry Gala with Phil and Patty SteMarie, sent an email recently with the above flyer attached.
You can get more details by visiting the CTO website here. What an honor to have Red Steagall appear!
Janet, Mikki Daniel, and
Jeneve Rose Mitchell!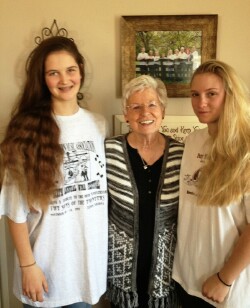 Please click to see a larger version.
Our Janet has now mentored an American Idol contestant! Below are just a few words from Janet:
I drive up to Mikki's [Daniel] house Tuesday. There is a mentee in the [American] Idol top 14 and [I am] going up there to work with her on yodeling.
Her name is Jeneve Rose Mitchell and she is a very talented 15 year old. I met her at WMA three years ago and I am very impressed with her because she is not in the 'cookie cutter category' which [is what] got her noticed.
Here is where you can view all of Janet's comments on this rather historic event--it's the very last American Idol season, and our champion yodeler Janet McBride gets to take a very small part!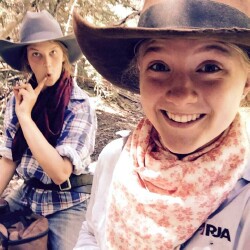 On October 5, 2015, Mikki Daniel posted the photo above on her Facebook page (you can view larger versions of all pictures in this section by clicking on them) with these words:
Changing my profile in honor of this amazing, talented lady! CHUCA! YOU MADE IT! YOU'RE ON AMERICAN IDOL! Congratulations. [heart emoticon] Love you.
With Jeneve Rose Mitchell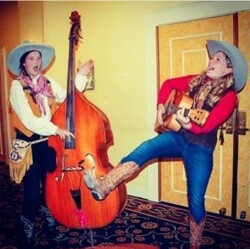 Our Kristyn Harris posted the photo above on Instagram just recently. She commented:
Just ran across this throwback photo from November 2014, with (the AMAZING) Jeneve Rose Mitchell, which is too hysterical not to share…can you tell we have fun?? #lookatherface #JeneveRoseMitchell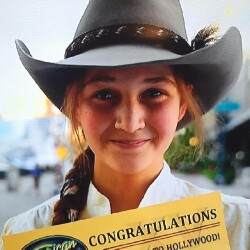 Above and below are two photos posted on Facebook by Jeneve herself. What an amazing ride our Janet is on!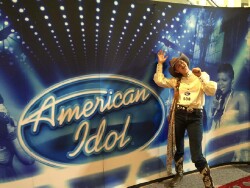 Janet Responds
On Facebook!

Please click to see a larger version.
As of January, 2016, Janet has her own account on Facebook! The photo above is currently her ID picture.
Being new to Facebook dynamics, she confesses to having a head that is "spinning" with the responses to the submitted photo of her with Mikki Daniel and Jeneve Rose Mitchell. She wrote personal comments in gratitude for the posts, and below is just some of what she said:
I went up to Mikki's home at the request of Jeneve's family who wondered if they could somehow connect so that I could do a little yodel coaching.
I did do just that. I spent about three hours up there with the two girls and we just had a blast YODELING.
I am so blessed to be still able to share what I have loved to do since I was 8 years old and that is to SPREAD YODEL SEEDS around the world.
These two gals are the wonderful part of the entertainment world The Lord has led me to. I am able to give my yodeling tricks and other info that a young person may find they need as they travel the same road I did at their age.
Like so many of you, I watched Jeneve on the Idol trip to Hollywood and it is wonderful to step in that life with her. Mikki also has so much going for her right now so just STAY TUNED.
This webmaster is confident that, with Janet on Facebook, there is no limit to what 2016 will bring. Congratulations to Janet and all of her constantly rising mentees!
Janet's Classic Photo
With Rosalie Allen!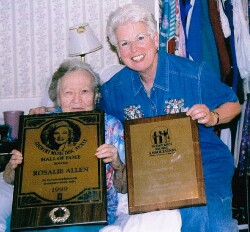 Please click to see a larger version.
Janet tells the story of this picture best. Here are her words:
No female other than Patsy Montana was any bigger in the yodeling field than Rosalie Allen. [She was an] RCA VICTOR RECORDING ARTIST.
Patsy Montana put me in contact/by correspondence/with Rosalie some years before she passed away. Patsy told me that Rosalie would not answer any letters etc but that she would read them. She said that Rosalie had become somewhat shy about meeting the public.
As luck would have it, on April 22, 2001 Rosalie told John and I she would see us at her apartment in the Lancaster/Palmdale area of California.
We had a wonderful visit and she showed me these two treasured awards.
COUNTRY MUSIC DISC JOCKEY HALL OF FAME 1999

WESTERN MUSIC ASSOCIATION HALL OF FAME 1993
What an honor for me to be standing with that LEGEND LADY!
In my days of learning to yodel, Elton Britt, Rosalie Allen, Patsy Montana, and Kenny Roberts were the BIGGIES.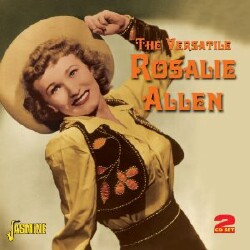 Above is the cover of the "Versatile Rosalie Allen" two CD set for a picture of her during her career. Below is a screen grab from the YouTube video of her 1952 rendition of "Cowboy's Sweetheart." You can view that video by clicking here.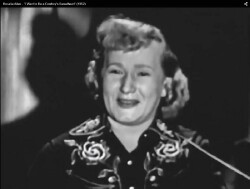 Please click to see a larger version.
Mary Resek
Contacts Janet!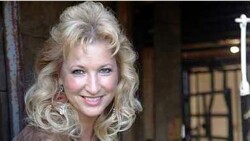 Please click to see a larger version.
On January 18, 2016, Mary Resek, famed Canadian yodeler and songstress, contacted Janet with some news about her new CD, and included a bit of a compliment regarding this website. How good to hear from her again! Below are a few of her words:
HI Janet..
Hope all is well,,, [here is some] music news..
First my second album, which started back in 2009, finally, finally got done and is released.. If you recall I recorded your song "Gospel Yodel" on it..
I've also recorded a song about Alzheimers, written by Lonnie Ratliff and [it] has taken a life of its own.. It became a bonus track on the album and some explanation of it is on the inside liner of the CD..
On another note, I've been following Kacey Musgraves' carreer and am so very happy for her that she has been successful up to this point and has kept REAL country music alive..
I first discovered her through your website and she was only 14 at that time.. so that was special..
Thanks again Janet for writing such a good Gospel song..
Take Care,
Mary
You can visit Mary's website at www.maryresek.com and her Facebook account at www.facebook.com/maryresek. Congratulations to you, Miss Resek, and thank you so much for contacting Janet!
Kacey Musgraves Sings
On The Late Show!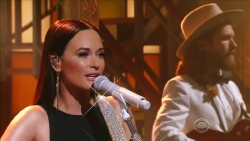 Please click to see a larger version.
On January 8, 2016, our Kacey performed "Late To The Party" with her band on Stephen Colbert's "Late Show." You can see the video here. Add to that Kacey's appearance with Willie Nelson for New Year's Eve, and she's already "rockin'" this very new year of 2016. Way to go, Kacey!
Mallary Hope Signs
New Record Deal!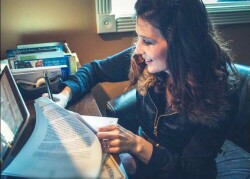 Please click to see a larger version.
On January 7, 2016, Mallary posted the following on her Facebook account. Finally! Congratulations Mallary!
So excited to share that I signed a new record deal!! I'm so grateful to my management team at [sic] Mcghee who have not given up on me when others have.
These last 4 years, career wise, I've felt so often like I wasn't getting anywhere. Now I know it was out of my control and in God's hands...
I'm so thankful to have found a record label who believes in me as an artist. My voice, my songs & my message.
It's such an exciting time for me to know I'll be somewhere where I can make a Christian & Country album. I'll finally (after 12 years) be able to have a fully produced & *released* album.
I'm so excited to be able to get it out to my fans. (I hope I have some left) [smile emoticon] I'll be able to share more details soon, so Stay tuned.
Huge thanks to all of you who have been rooting for me. I'm so excited to see where this journey takes us. Bring it on 2016!
Janet's Songs on New CDs
By Paula Williamson!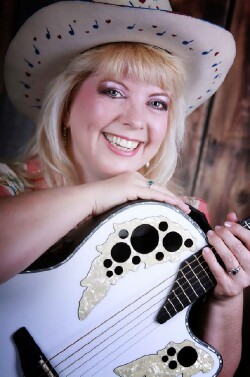 Please click to see a larger version.
In October of last year, Ms. Williamson announced to Janet that she had created a "double yodel CD." On it will be two of Janet's songs: "Where The Yodel Came From" and "Swiss Cheese Yodel." Congratulations both Janet and Paula! And thank you, Ms. Williamson, for choosing Janet's songs!
Two Songs from
Janet's New CD
"Here I Am!"
Picking sample songs from Janet's new CD was a difficult task, as there were so many favorites. Chosen were two that were not already on this website. You can click the little speaker icons to listen.


Who Is this Jesus Person?


Like You Did
Note from the webmaster on "hurtin' songs:" on the inside of Janet's CD, Tex and Mary Schutz refer, with great reverence, to Janet's "crying-hurting" songs. After years of theological studies, this webmaster would like to point out that these songs suggest a Standard of Right-ness.
In each one that Janet wrote, there is the teaching that a happy relationship, with loyalty and dedication, are the Right way to enjoy Romance. Congratulations to Janet for finally meeting her John Ingram--who fulfilled, for her, that teaching.
We will forego placing these on our Audio Page until after the webmaster has upgraded his computer system.
JANET'S LATEST CD AVAILABLE!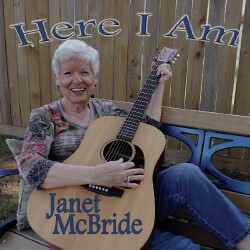 Janet's new CD "Here I Am" is now out of production and ready for purchase! On it are twenty-seven songs, with one brand new release.
The new number is "The Lottery," listed as song #17. The rest have been remastered and re-issued, the mastering done by the late Phil York, who produced Willie Nelson's "Red Headed Stranger."
To order this CD from Janet, just send $15 PPD to the address listed immediately below:
Janet McBride
P.O. BOX 850351
MESQUITE, TX 75185-0351

You can contact Janet via her Email by clicking here.

Janet previously forwarded pictures of the front and back of this CD, which was produced by her friend Mary Schutz. With both photos you can click for larger versions.

There is a story to tell about "Here I Am" -- why Janet chose the songs she did, where they came from, and more. We plan to present that story, in detail, after the webmaster upgrades his computer system.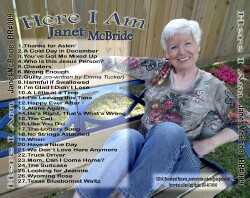 Janet's Original Song
"A Cowgirl's Dream"
Featuring Patsy Montana
A Video on YouTube!
Says Janet: This is just finished. Mary Schutz did the work. The young girl is Mikki Daniel.
Check out all of the clips of Patsy which are some of the stuff we pulled from the 16mm and 8mm film in her closet. Just too cool.
You can view this video by clicking here.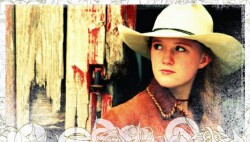 You can see what Mikki wrote about Janet in her "First-Quarter" 2014 Newsletter on our new Mikki Daniel tribute page here.
There are, obviously, many things to add about the making of this video. As with the new CD above, that information will be coming soon. In the meantime, you can see what Janet wrote about the creation of her song "Yodeler's Dream" (posted on Roy Tucker's website) by clicking this link.
In Memoriam
John Ingram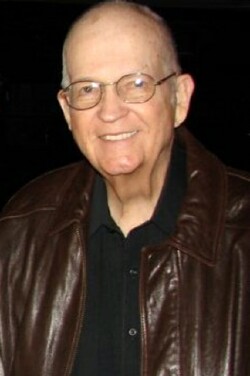 Please click to see a larger version.
On December 22, 2010, Janet's husband John Ingram went home to be with the Lord. Just a few days before that, he was with Janet and their granddaughter when this photo was taken. Here are Janet's words:
We all commented that night at how great John looked and how he was able to climb the stairs at the restaurant and how happy he was.
I had not seen this photo until last week. I did not take the camera that night but this photo was taken by Devri McBride. It was her Birthday dinner at a restaurant in Dallas.
How cool is that photo?
You can see all of our tribute information regarding John by clicking either here or on the menu button to the upper left entitled "John." Thank you, Devri, for sharing that picture!
MORE ON JANET
CHANGES IN
CONTACTING JANET
This webmaster is sorry, but, as explained in our ordering sections on this page and the Orders page, the forms we used to use to contact Janet were generating from 50-75 spam Emails a day. Each one had to be examined closely in case it came from you, one of Janet's fans.
We have therefore removed the forms, but left the Emails with which to contact Janet or Pat Boileson, Fan Club President. We've also included product price information on Janet's new CD, "Here I Am."
Janet on Twitter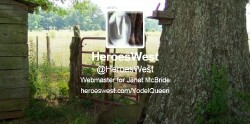 Our Janet is far too busy to maintain a Twitter account herself, but this webmaster posts photos of her under the HeroesWest brand.
If you have a Twitter account, just search with hashtag #JanetMcBride, then click "all," and you will see the postings listed.
Mesquite Opry DVD!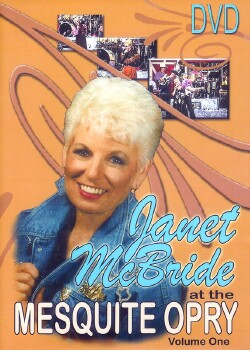 Janet's friend and biographer Mary Schutz created a DVD with clips from various Mesquite Opry performances! By clicking either photo above and below you can get larger views. If you're interested in purchasing a copy of this DVD, you can go to Mary's website for Janet here, and scroll down the page. You will see several other products by and about Janet. Each one can be purchased from Mary's website through PayPal.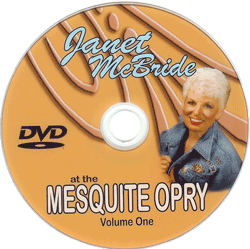 Janet's Biography on Amazon!

You can now purchase Janet's new book, Still Lovin' the Ride, on Amazon! Just click the screen grab below.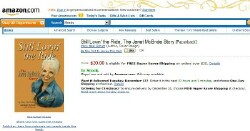 You can also download two of Janet's mp3s from Amazon by clicking this link, or several of her CDs by clicking here. Congratulations Janet!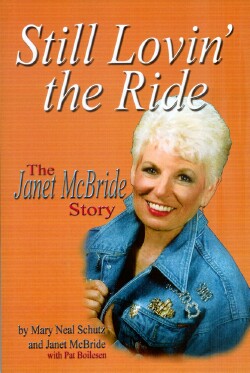 Janet is grateful for the response to her new book. You can see larger versions of both front and back covers by clicking the photos above and below.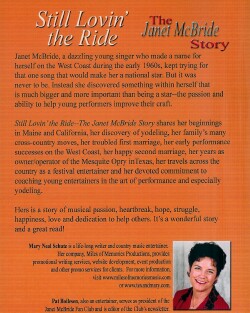 She worked for nearly two years with both Mary Schutz and Pat Boileson to create this very interesting, entertaining, and informative biography of her life. Ms. Schutz is a web designer in her own right, and has decided to create a website for Janet and this book. You can learn much about both when you visit that website by clicking the picture below.

Janet says of this new site: "It is meant to put the book out where it can be seen and purchased hopefully." Congratulations to Janet, Mary, and Pat!
You can now order this book, or the "Still Loving the Ride" CD, by choosing radio buttons on our order submit form! You can also see a list of product prices just above that form.
-o-