Janet McBride
P.O. BOX 850351
MESQUITE, TX 75185-0351

You can contact Janet via her Email by clicking here.

Janet previously forwarded pictures of the front and back of this CD, which was produced by her friend Mary Schutz. With both photos you can click for larger versions.

There is a story to tell about "Here I Am" -- why Janet chose the songs she did, where they came from, and more. We plan to present that story, in detail, after the webmaster upgrades his computer system.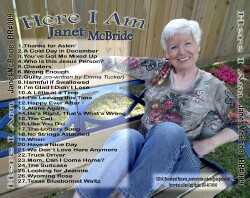 Janet's Friends at the
2014 CMT Video Awards!
On Wednesday, June 4, 2014, CMT broadcast their annual Video Awards show, and four entertainers attended who have connections to our Janet!
Kacey Musgraves and Lee Ann Womack sang a duet to honor Alan Jackson, and you can see two photos of them above. Amber Carrington was in the audience with her date, Dran Michael of Dran Michael Productions.
The following day, LeAnn Rimes cut the ribbon for the opening ceremonies of CMA Fest, 2014. She tweeted: Thx country fans @CMAFestVIP for the best time I've ever had at CMA Fest. Loved seeing you all. Thanks for all your love and support.
That same day, Kacey tweeted: Wake up. Eat food. Play show with @AlisonKrauss and @willienelson. WHAT IS LIFE?!
As most people know, Janet either mentored or helped in some way LeAnn Rimes, Lee Ann Womack, and Kacey Musgraves. Amber Carrington appeared as a star at the Rodeo City Music Hall, which often featured Janet and was held at the same building as was once her Mesquite Opry. Congratulations to all involved in these beautiful careers.
You can bring up larger versions of any of the photos immediately above by clicking them.
New Mikki Daniel Page!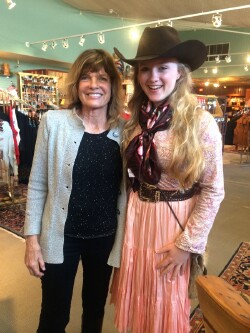 Please click to see a larger version.
We've added a new tribute page for yodeling champion Mikki Daniel, one of Janet's mentees who has risen to Champion Yodeler status on many fronts. She is also the featured model in Janet's new video of "A Yodeler's Dream," with Patsy Montana (mentioned below).
You will see an explanation regarding her photo with Katharine Ross (above), as well as more photos, information regarding a recent concert, and links to her website and Facebook page.
Links to her tribute are now on the bottom of each of our website pages. You can see it by clicking here. Thank you so much, Mikki, for all you've done and all you're going to do!
Janet's Throwback Photo:
1998 Buckaroos!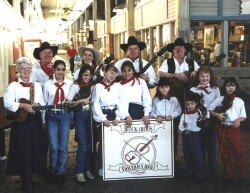 Please click to see a larger version.
Says Janet May 22, 2014:
THIS IS A PHOTO FROM A 1998 BUCKAROO PERFORMANCE
Misty Sereff is in it plus Sally Wallace, Kelly Bullock, Michael Slayton (little boy), Brooke Wallace, Ginny Mac, me, Devon, Chuck, Paul Wallace, Rachael Werline, Cristy Kibbler…
A blast from the past for sure.
Many thanks to Miss Devon Dawson for sending the picture!
Janet's Original Song
"A Cowgirl's Dream"
Featuring Patsy Montana
Now a Video on YouTube!
Says Janet: This is just finished. Mary Schutz did the work. The young girl is Mikki Daniel.
Check out all of the clips of Patsy which are some of the stuff we pulled from the 16mm and 8mm film in her closet. Just too cool.
You can view this video by clicking here.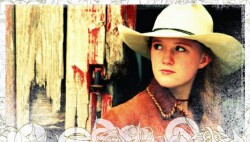 You can see what Mikki wrote about Janet in her "First-Quarter" 2014 Newsletter on our new Mikki Daniel tribute page here.
There are, obviously, many things to add about the making of this video. As with the new CD above, that information will be coming soon. In the meantime, you can see what Janet wrote about the creation of her song "Yodeler's Dream" (posted on Roy Tucker's website) by clicking this link.
Janet with Cheryl Rogers at the
Allen Texas Library Show!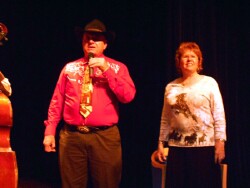 On May 23, Jerry Baumann sent a link to photos of the Allen Texas Library Show which Janet attended, along with Cheryl Rogers (adopted daughter of famed cowboy Roy Rogers and his first wife, Arline), Don Reynolds, and many other folk, including Shoot Low Sheriff and Kristyn Harris. You can go directly to that page by clicking here.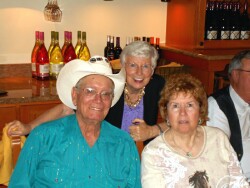 Directly above you can see Janet between Don Reynolds and a rather startled Cheryl (you can view both of these photos in larger versions by clicking them). Janet commented on the occasion:
Don Reynolds has a long career in movies. He is also an animal trainer. He trained the animals for the Lord of the Rings movie.
He was the last child actor to be LITTLE BEAVER in the Red Ryder Movies but his bio reads full of stuff.
Thanks to all who made these photos possible!
Janet and John In
Mother's Day Video
By Mike Johnson!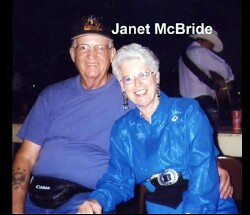 Please click to see a larger version.
Mike Johnson, yodeling friend of Janet's and songwriter/video producer, sent a link to his video "Did You Hug Your Mother Today?" for Mother's Day. In it he shares pictures of various mothers, especially, who have been meaningful in his life and career.
Janet was particularly excited to see this vibrant photo of her with husband John Ingram included. You can see Mike's video by clicking here. The picture above will appear toward the latter part of the video.
Janet Featured In
Cowtown Opry Video!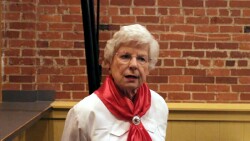 Please click to see a larger version.
Janet said: "this is a project a couple of kids did for their school 'special assignment.'" It is quite interesting, and features Janet as a spokeswoman. You can see the video, posted by Moose and Goose on YouTube, by clicking here.
Congratulations to CTO
Award Winners and Nominees!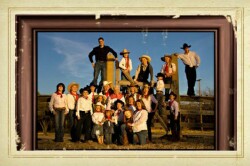 Sonya Howeth emailed the following on May 9, 2014:
Dear Cowtown Opry Family and Friends,
Before too much time passes, Cowtown Opry would like to congratulate several of our members for once again rising to the top!
Recently the Academy of Western Artists held their awards banquet at the Sheraton in Irving, Tx. It was a lovely evening, well attended by artists and fans from all over the United States.
We are proud of several of our members for being in the top five nominations for several categories (Miss Devon and the Outlaw for Western Music Duo/Group of the Year, Devon Dawson for Yodeler of the Year, Kristyn Harris for Western Music Female Vocalist, Western Music CD of the Year and Yodeler of the Year, and Mikki Daniel for Western Music Album of the Year, western Music Song of the Year, Yodeler of the Year and Young New Artist of the Year).
CONGRATULATIONS TO:
KRISTYN HARRIS for Western Music Vocalist of the Year and
MIKKI DANIEL for Yodeler of the Year!
We are so proud of you all!
Happy Trails,
Sonya Howeth
Chairman of the Board
Janet at the CTO Gala!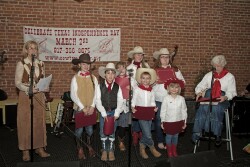 Here are two photos of Janet at the Cowtown Opry's March Gala, which occurred on March 2 this year. Dave Alexander was the featured entertainer. You can see a whole passel of photos from the event, posted by Boyd Raburn April 8, 2014, by clicking this link. Thank you, Mr. Raburn!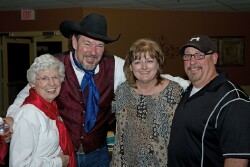 Janet's Song "Mama"
Now a Video!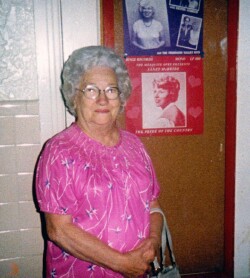 We just put together a video of Janet's song "Mama" with various photos of her mother through the years. You can see that video on YouTube by clicking the photo above. You can stream it from our own server with a computer by clicking here.
Says Janet: Mama lived to be 92 years old and although she never heard this song, I know she's smiling down on me each day. All of us kids loved our Mama.
Fan Club News!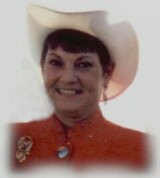 Pat Boileson recently mailed out the **January 2014** Fan Club Newsletter. This issue arrived early as a "make up" for the Christmas newsletter which had to be minimal due to computer issues. 2014 is the tenth full year of the Janet McBride Fan Club!
Pat celebrates by submitting a "throwback" article detailing Janet's involvement with the Von Trapp family. In December, both the movie version of "Sound of Music" and a stage version were featured on national television.
Ms. Boileson also included some early photos of John dancing and being the comedian, with a young lady named "Kacey Musgraves" accompanying on guitar! Plus, there was recent news regarding Janet's appearance at the Mesquite Opry House. On a sadder note, Pat asks that we pray for her daughter-in-law, who is fighting cancer.
Thank you, as always, Ms. Pat for your hard work regarding Janet, and congratulations on your own musical success!
In Memoriam
John Ingram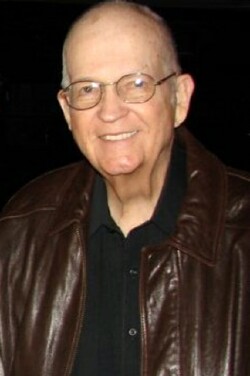 Please click to see a larger version.
On December 22, 2010, Janet's husband John Ingram went home to be with the Lord. Just a few days before that, he was with Janet and their granddaughter when this photo was taken. Here are Janet's words:
We all commented that night at how great John looked and how he was able to climb the stairs at the restaurant and how happy he was.
I had not seen this photo until last week. I did not take the camera that night but this photo was taken by Devri McBride. It was her Birthday dinner at a restaurant in Dallas.
How cool is that photo?
You can see all of our tribute information regarding John by clicking either here or on the menu button to the upper left entitled "John." Thank you, Devri, for sharing that picture!
---
MENTEES OF JANET
LeAnn Rimes Sings
The National Anthem at
The Indianapolis 500!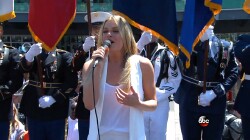 Please click to see a larger version.
Our LeAnn sang the National Anthem for the Indianapolis 500 on May 25, 2014. About the experience, she offered the following two tweets:
So emotional before I sing, thinking about the heroes this song means so much to. I dedicate the anthem today to the men and women who've served our country and their families. May our soldiers live in in our hearts forever. @IMS [Indy Motor Speedway]
The horns they played right before the NA [National Anthem] moved me to tears. I was crying the first few lines of the song. #MemorialDay
You can see a video of LeAnn's performance by clicking this link. Thank you, LeAnn, for yet another phenomenal appearance!
Kacey Musgraves on Summer
Tour with Katy Perry!

Please click to see a larger version.
Our Kacey is excited to announce her summer tour with Katy Perry, as is indicated in the above photo of them both in Billboard Magazine's May, 2014 issue.
Kacey tweeted on May 23: Also, don't forgot to watch mine & @katyperry's FUN @CMT Crossroads episode June 13th!!
Congratulations, yet again, Kacey!
Kristyn Harris
To Be an Actress!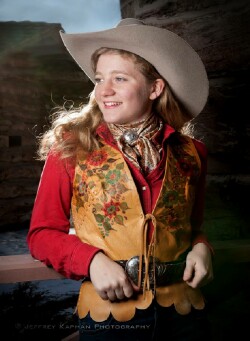 Please click to see a larger version.
Michael J. Cutt of SAG, President/Writer/Producer at Cutt Films, posted this more than excellent photo of our Kristyn on May 15, 2014. Her website explains her acting debut as follows:
KRISTYN IN A FEATURE FILM!
ANNOUNCEMENT!
Kristyn is going to be part of an upcoming feature film for television!
"Final Breath", based on the book by Eddie Floyd, will be filmed at Wynema Ranch in Nevada. She will be acting as well as singing in the film.
More info to follow!
Wow! Congratulations Krystin! You can go to her website by clicking here.
Amber Carrington
Meets Her Idol!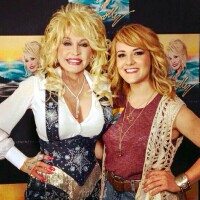 Please click to see a larger version.
Amber Carrington, former star of the Rodeo City Music Hall, finally met her idol Dolly Parton on May 23, 2014 at RedFest USA! She was able to post this photo on Twitter the very next day. Right after the meeting, Amber Tweeted:
What a dream. She was beautiful. My heart is just radiating with joy. @DollyParton
As a lot of Janet's fans know, Amber would do humerous impersonations of Dolly at the Hall. Congratulations, Amber!
Chelsea Beck--
College Graduate!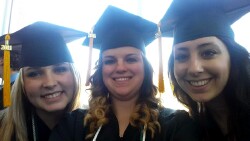 Please click to see a larger version.
Chelsea Beck Johnston graduated from college May 10, 2014! And her husband, Shane, graduated the night before! The photo above is Chelsea with friends Kaylin and Nichole.
Said Chelsea on Facebook May 9 regarding her husband: Congrats to my hubby for graduating college today! I am so proud of him! I cannot believe that this time tomorrow I will be a college graduate!!! I cannot wait to start this next chapter of our lives! Graduate school here I come! — feeling excited.
Explained Chelsea to this webmaster: My husband graduated magna cum Laude with a Bachelor of Arts in music education and I graduated magna cum Laude with a Bachelor of Science in speech language pathology.
We both attended Northeastern State University in Tahlequah, Ok. magna cum Laude means that we graduated with honors being in the 3.6 to 3.79 GPA range.
Janet commented on the graduation as follows: I did get their announcements that they were graduating and YES, I am very proud of both of them since they did marry and then actually finish their college dreams.
Congratulations Chelsea and Shane. You can see Chelsea's announcement of her post-graduation plans on our Chelsea Beck page here.
Mallary Hope
Gets Married!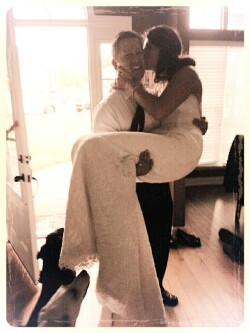 Please click to see a larger version.
On Sunday, April 13, 2014, Mallary and her husband Ryan very quietly, and without public announcement, married at the church where Mallary's father pastors. They plan a more public celebration in the fall. Here is what Mallary said on Facebook when she posted this picture April 18:
Thank you all for your kind words of love and support I'm so happy. The happiest I've ever been and can't wait to continue to share our journey with you. That's a wrap on the annoying posts for the day.
PS: I made him carry me over the threshold over our new home and life together. And then the dogs tried to eat my dress…..
Congratulations to you both, Mallary and Ryan.
Kacey Musgraves
In Elle Magazine!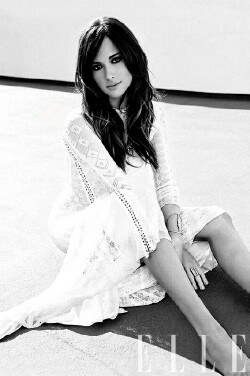 Please click to see a larger version.
When Janet forwarded a copy of this photo, she simply said: "beautiful pic!" Indeed it is. Congratulations, Kacey!
---
MORE ON JANET
Janet Throwback Photo
With Chandler Bennett and
Kacey Musgraves!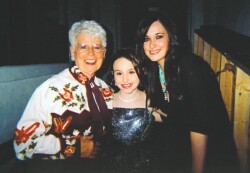 Please click to see a larger version.
When we did a blurb about Chandler Bennett visiting Amber Carrington, Janet sent the above photo with the following message:
Got to thinking I had a photo from 2008 of Chandler and found that Kacey was in it also. Amber was at that show as well.
Janet on Twitter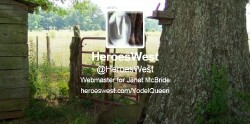 Our Janet is far too busy to maintain a Twitter account herself, but this webmaster posts photos of her under the HeroesWest brand.
If you have a Twitter account, just search with hashtag #JanetMcBride, then click "all," and you will see the postings listed.
Mesquite Opry DVD!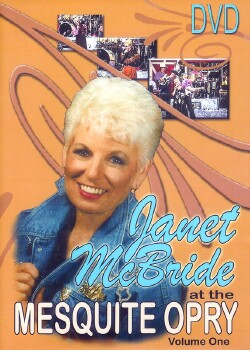 Janet's friend and biographer Mary Schutz created a DVD with clips from various Mesquite Opry performances! By clicking either photo above and below you can get larger views. If you're interested in purchasing a copy of this DVD, you can go to Mary's website for Janet here, and scroll down the page. You will see several other products by and about Janet. Each one can be purchased from Mary's website through PayPal.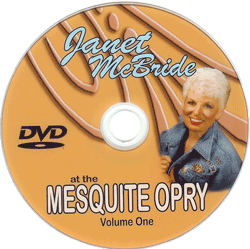 Janet's Biography on Amazon!

You can now purchase Janet's new book, Still Lovin' the Ride, on Amazon! Just click the screen grab below.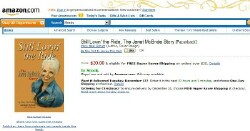 You can also download two of Janet's mp3s from Amazon by clicking this link, or several of her CDs by clicking here. Congratulations Janet!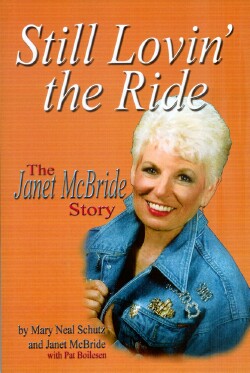 Janet is grateful for the response to her new book. You can see larger versions of both front and back covers by clicking the photos above and below.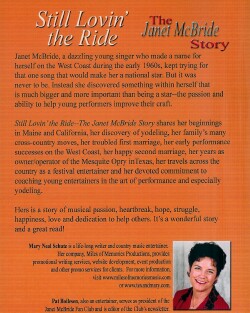 She worked for nearly two years with both Mary Schutz and Pat Boileson to create this very interesting, entertaining, and informative biography of her life. Ms. Schutz is a web designer in her own right, and has decided to create a website for Janet and this book. You can learn much about both when you visit that website by clicking the picture below.

Janet says of this new site: "It is meant to put the book out where it can be seen and purchased hopefully." Congratulations to Janet, Mary, and Pat!
You can now order this book, or the "Still Loving the Ride" CD, by choosing radio buttons on our order submit form! You can also see a list of product prices just above that form.
-o-