ANNOUNCEMENTS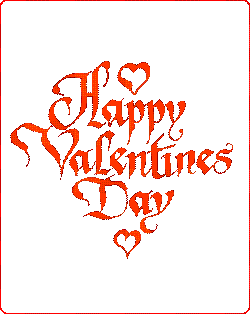 Happy Valentine's Day! When prompted by the webmaster, Janet did confirm that the Buckaroos will be meeting Sunday, February 14--on this very holiday. Blessings to all who attend.
Janet's Mentee To Appear
On Little Big Shots!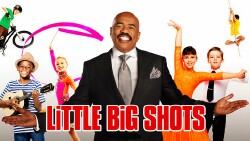 Please click to see a larger version.
Janet will have a mentee on the upcoming NBC show, "Little Big Shots." Says Janet:
I don't think we can say their name yet BUT ... I bet we can tell folks to tune in to the LITTLE BIG SHOTS show!
You can visit the show's website for details as to beginning date, etc. by clicking here. Congratulations yet again to our Janet!
Mikki Daniel Wins
Rising Star Award!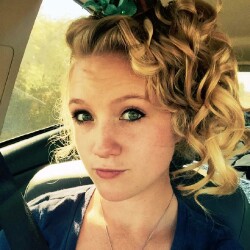 Mikki Daniel just posted an announcement regarding her win of the Cowtown Society of Western Music's Rising Star of the Year Award for 2016! Below is the photo she posted of the announcement (you can see larger versions of both pictures in this section by clicking on them).

Here is what Mikki wrote as she posted the snapshot of this announcement:
I am so honored to be considered a CSWM Rising Star of the year by the Cowtown Society of Western Music!
I can't wait to attend the Swing Fest on the 7th of May--a day of continuous celebration of Western swing and traditional music! Woohoo!
To accompany her Facebook profile picture submitted in January of this year, Mikki composed this:
I was reading my Bible this morning, and I ran across this verse for the um-teenth time. Only this time it really struck a chord within my soul.
"Let no man despise [make fun of] thy youth, but instead be an example of Christ to them: in conversation, in charity, in spirit, in faith, in purity and in kindness."
--1st Timothy 4:12
I pray that the Lord helps me to always be "an example of the hope that is within me"! May the Lord bless your day today!
Congratulations, Mikki, and thank you for your sweet testimony!
Janet To Host
The Buckaroos
March 13, 2016!
Normally, the Buckaroos do not meet during the same month as the "Gala" concert, referenced below. But this year they will. Here are Janet's words:
The board did add a March Buckaroo Appearance for the first time and it will be Sunday March 13th. Yep, I will be there as usual on that Sunday
Red Steagall will definitely appear [the night before] and will take the stage for a 'cameo' appearance. He is a Legend and we are so proud that he will be our Honored Guest.
Red Steagall and
The Cowtown Opry
March 12, 2016!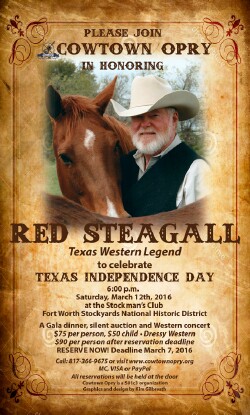 Please click to see a larger version.
Sonya Howeth, Co- Chair for 2016 Cowtown Opry Gala with Phil and Patty SteMarie, sent an email recently with the above flyer attached.
You can get more details by visiting the CTO website here. What an honor to have Red Steagall appear!
Janet, Mikki Daniel, and
Jeneve Rose Mitchell!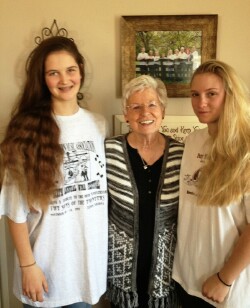 Please click to see a larger version.
Our Janet has now mentored an American Idol contestant! Below are just a few words from Janet:
I drive up to Mikki's [Daniel] house Tuesday. There is a mentee in the [American] Idol top 14 and [I am] going up there to work with her on yodeling.
Her name is Jeneve Rose Mitchell and she is a very talented 15 year old. I met her at WMA three years ago and I am very impressed with her because she is not in the 'cookie cutter category' which [is what] got her noticed.
Here is where you can view all of Janet's comments on this rather historic event--it's the very last American Idol season, and our champion yodeler Janet McBride gets to take a very small part!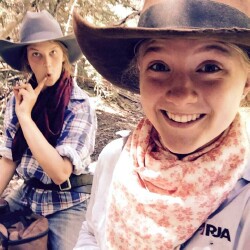 On October 5, 2015, Mikki Daniel posted the photo above on her Facebook page (you can view larger versions of all pictures in this section by clicking on them) with these words:
Changing my profile in honor of this amazing, talented lady! CHUCA! YOU MADE IT! YOU'RE ON AMERICAN IDOL! Congratulations. [heart emoticon] Love you.
With Jeneve Rose Mitchell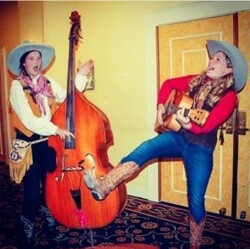 Our Kristyn Harris posted the photo above on Instagram just recently. She commented:
Just ran across this throwback photo from November 2014, with (the AMAZING) Jeneve Rose Mitchell, which is too hysterical not to share…can you tell we have fun?? #lookatherface #JeneveRoseMitchell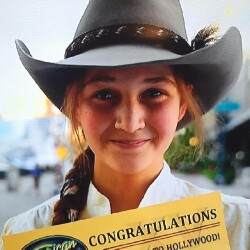 Above and below are two photos posted on Facebook by Jeneve herself. What an amazing ride our Janet is on!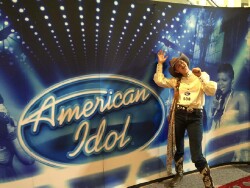 Janet Responds
On Facebook!

Please click to see a larger version.
As of January, 2016, Janet has her own account on Facebook! The photo above is currently her ID picture.
Being new to Facebook dynamics, she confesses to having a head that is "spinning" with the responses to the submitted photo of her with Mikki Daniel and Jeneve Rose Mitchell. She wrote personal comments in gratitude for the posts, and below is just some of what she said:
I went up to Mikki's home at the request of Jeneve's family who wondered if they could somehow connect so that I could do a little yodel coaching.
I did do just that. I spent about three hours up there with the two girls and we just had a blast YODELING.
I am so blessed to be still able to share what I have loved to do since I was 8 years old and that is to SPREAD YODEL SEEDS around the world.
These two gals are the wonderful part of the entertainment world The Lord has led me to. I am able to give my yodeling tricks and other info that a young person may find they need as they travel the same road I did at their age.
Like so many of you, I watched Jeneve on the Idol trip to Hollywood and it is wonderful to step in that life with her. Mikki also has so much going for her right now so just STAY TUNED.
This webmaster is confident that, with Janet on Facebook, there is no limit to what 2016 will bring. Congratulations to Janet and all of her constantly rising mentees!
Janet's Classic Photo
With Rosalie Allen!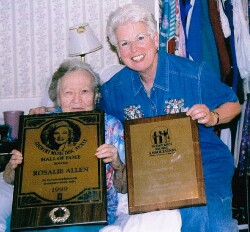 Please click to see a larger version.
Janet tells the story of this picture best. Here are her words:
No female other than Patsy Montana was any bigger in the yodeling field than Rosalie Allen. [She was an] RCA VICTOR RECORDING ARTIST.
Patsy Montana put me in contact/by correspondence/with Rosalie some years before she passed away. Patsy told me that Rosalie would not answer any letters etc but that she would read them. She said that Rosalie had become somewhat shy about meeting the public.
As luck would have it, on April 22, 2001 Rosalie told John and I she would see us at her apartment in the Lancaster/Palmdale area of California.
We had a wonderful visit and she showed me these two treasured awards.
COUNTRY MUSIC DISC JOCKEY HALL OF FAME 1999

WESTERN MUSIC ASSOCIATION HALL OF FAME 1993
What an honor for me to be standing with that LEGEND LADY!
In my days of learning to yodel, Elton Britt, Rosalie Allen, Patsy Montana, and Kenny Roberts were the BIGGIES.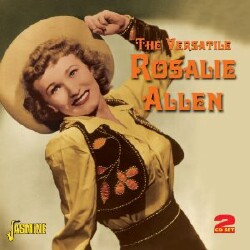 Above is the cover of the "Versatile Rosalie Allen" two CD set for a picture of her during her career. Below is a screen grab from the YouTube video of her 1952 rendition of "Cowboy's Sweetheart." You can view that video by clicking here.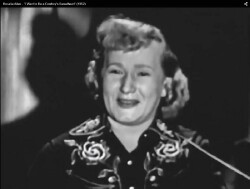 Please click to see a larger version.
Mary Resek
Contacts Janet!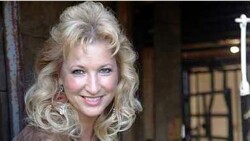 Please click to see a larger version.
On January 18, 2016, Mary Resek, famed Canadian yodeler and songstress, contacted Janet with some news about her new CD, and included a bit of a compliment regarding this website. How good to hear from her again! Below are a few of her words:
HI Janet..
Hope all is well,,, [here is some] music news..
First my second album, which started back in 2009, finally, finally got done and is released.. If you recall I recorded your song "Gospel Yodel" on it..
I've also recorded a song about Alzheimers, written by Lonnie Ratliff and [it] has taken a life of its own.. It became a bonus track on the album and some explanation of it is on the inside liner of the CD..
On another note, I've been following Kacey Musgraves' carreer and am so very happy for her that she has been successful up to this point and has kept REAL country music alive..
I first discovered her through your website and she was only 14 at that time.. so that was special..
Thanks again Janet for writing such a good Gospel song..
Take Care,
Mary
You can visit Mary's website at www.maryresek.com and her Facebook account at www.facebook.com/maryresek. Congratulations to you, Miss Resek, and thank you so much for contacting Janet!
Kacey Musgraves Sings
On The Late Show!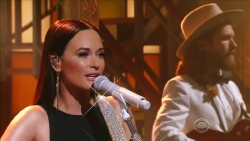 Please click to see a larger version.
On January 8, 2016, our Kacey performed "Late To The Party" with her band on Stephen Colbert's "Late Show." You can see the video here. Add to that Kacey's appearance with Willie Nelson for New Year's Eve, and she's already "rockin'" this very new year of 2016. Way to go, Kacey!
Mallary Hope Signs
New Record Deal!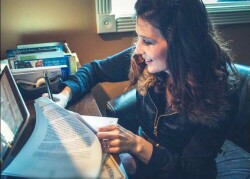 Please click to see a larger version.
On January 7, 2016, Mallary posted the following on her Facebook account. Finally! Congratulations Mallary!
So excited to share that I signed a new record deal!! I'm so grateful to my management team at [sic] Mcghee who have not given up on me when others have.
These last 4 years, career wise, I've felt so often like I wasn't getting anywhere. Now I know it was out of my control and in God's hands...
I'm so thankful to have found a record label who believes in me as an artist. My voice, my songs & my message.
It's such an exciting time for me to know I'll be somewhere where I can make a Christian & Country album. I'll finally (after 12 years) be able to have a fully produced & *released* album.
I'm so excited to be able to get it out to my fans. (I hope I have some left) [smile emoticon] I'll be able to share more details soon, so Stay tuned.
Huge thanks to all of you who have been rooting for me. I'm so excited to see where this journey takes us. Bring it on 2016!
Janet's Songs on New CDs
By Paula Williamson!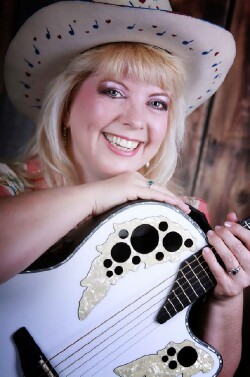 Please click to see a larger version.
In October of last year, Ms. Williamson announced to Janet that she had created a "double yodel CD." On it will be two of Janet's songs: "Where The Yodel Came From" and "Swiss Cheese Yodel." Congratulations both Janet and Paula! And thank you, Ms. Williamson, for choosing Janet's songs!
Two Songs from
Janet's New CD
"Here I Am!"
Picking sample songs from Janet's new CD was a difficult task, as there were so many favorites. Chosen were two that were not already on this website. You can click the little speaker icons to listen.


Who Is this Jesus Person?


Like You Did
Note from the webmaster on "hurtin' songs:" on the inside of Janet's CD, Tex and Mary Schutz refer, with great reverence, to Janet's "crying-hurting" songs. After years of theological studies, this webmaster would like to point out that these songs suggest a Standard of Right-ness.
In each one that Janet wrote, there is the teaching that a happy relationship, with loyalty and dedication, are the Right way to enjoy Romance. Congratulations to Janet for finally meeting her John Ingram--who fulfilled, for her, that teaching.
We will forego placing these on our Audio Page until after the webmaster has upgraded his computer system.
JANET'S LATEST CD AVAILABLE!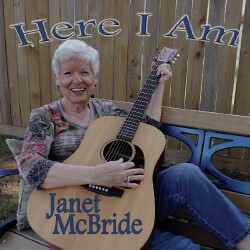 Janet's new CD "Here I Am" is now out of production and ready for purchase! On it are twenty-seven songs, with one brand new release.
The new number is "The Lottery," listed as song #17. The rest have been remastered and re-issued, the mastering done by the late Phil York, who produced Willie Nelson's "Red Headed Stranger."
To order this CD from Janet, just send $15 PPD to the address listed immediately below:
Janet McBride
P.O. BOX 850351
MESQUITE, TX 75185-0351

You can contact Janet via her Email by clicking here.

Janet previously forwarded pictures of the front and back of this CD, which was produced by her friend Mary Schutz. With both photos you can click for larger versions.

There is a story to tell about "Here I Am" -- why Janet chose the songs she did, where they came from, and more. We plan to present that story, in detail, after the webmaster upgrades his computer system.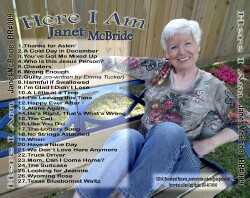 Janet's Original Song
"A Cowgirl's Dream"
Featuring Patsy Montana
A Video on YouTube!
Says Janet: This is just finished. Mary Schutz did the work. The young girl is Mikki Daniel.
Check out all of the clips of Patsy which are some of the stuff we pulled from the 16mm and 8mm film in her closet. Just too cool.
You can view this video by clicking here.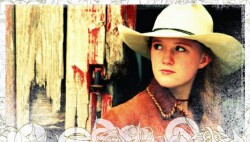 You can see what Mikki wrote about Janet in her "First-Quarter" 2014 Newsletter on our new Mikki Daniel tribute page here.
There are, obviously, many things to add about the making of this video. As with the new CD above, that information will be coming soon. In the meantime, you can see what Janet wrote about the creation of her song "Yodeler's Dream" (posted on Roy Tucker's website) by clicking this link.
In Memoriam
John Ingram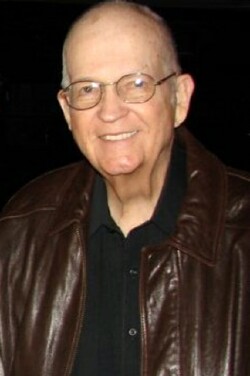 Please click to see a larger version.
On December 22, 2010, Janet's husband John Ingram went home to be with the Lord. Just a few days before that, he was with Janet and their granddaughter when this photo was taken. Here are Janet's words:
We all commented that night at how great John looked and how he was able to climb the stairs at the restaurant and how happy he was.
I had not seen this photo until last week. I did not take the camera that night but this photo was taken by Devri McBride. It was her Birthday dinner at a restaurant in Dallas.
How cool is that photo?
You can see all of our tribute information regarding John by clicking either here or on the menu button to the upper left entitled "John." Thank you, Devri, for sharing that picture!
MORE ON JANET
CHANGES IN
CONTACTING JANET
This webmaster is sorry, but, as explained in our ordering sections on this page and the Orders page, the forms we used to use to contact Janet were generating from 50-75 spam Emails a day. Each one had to be examined closely in case it came from you, one of Janet's fans.
We have therefore removed the forms, but left the Emails with which to contact Janet or Pat Boileson, Fan Club President. We've also included product price information on Janet's new CD, "Here I Am."
Janet on Twitter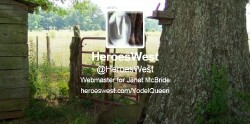 Our Janet is far too busy to maintain a Twitter account herself, but this webmaster posts photos of her under the HeroesWest brand.
If you have a Twitter account, just search with hashtag #JanetMcBride, then click "all," and you will see the postings listed.
Mesquite Opry DVD!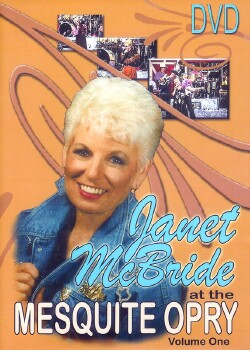 Janet's friend and biographer Mary Schutz created a DVD with clips from various Mesquite Opry performances! By clicking either photo above and below you can get larger views. If you're interested in purchasing a copy of this DVD, you can go to Mary's website for Janet here, and scroll down the page. You will see several other products by and about Janet. Each one can be purchased from Mary's website through PayPal.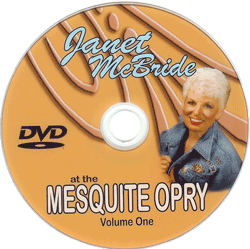 Janet's Biography on Amazon!

You can now purchase Janet's new book, Still Lovin' the Ride, on Amazon! Just click the screen grab below.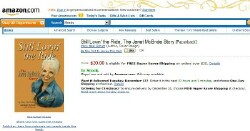 You can also download two of Janet's mp3s from Amazon by clicking this link, or several of her CDs by clicking here. Congratulations Janet!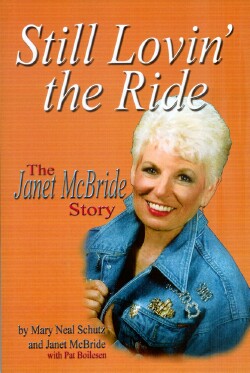 Janet is grateful for the response to her new book. You can see larger versions of both front and back covers by clicking the photos above and below.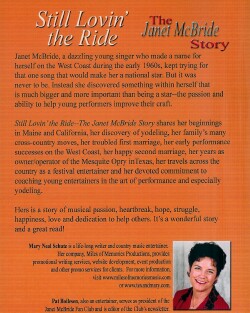 She worked for nearly two years with both Mary Schutz and Pat Boileson to create this very interesting, entertaining, and informative biography of her life. Ms. Schutz is a web designer in her own right, and has decided to create a website for Janet and this book. You can learn much about both when you visit that website by clicking the picture below.

Janet says of this new site: "It is meant to put the book out where it can be seen and purchased hopefully." Congratulations to Janet, Mary, and Pat!
You can now order this book, or the "Still Loving the Ride" CD, by choosing radio buttons on our order submit form! You can also see a list of product prices just above that form.
-o-