INFORMATION
Janet is grateful for the response to her new book. You can see larger versions of both front and back covers by clicking the photos above and below.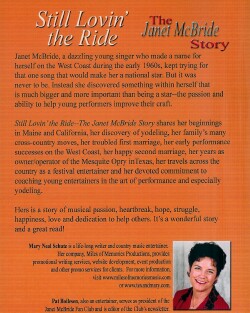 She worked for nearly two years with both Mary Schutz and Pat Boileson to create this very interesting and entertaining biography of her life.

You can purchase Janet's book on Amazon! Just click the images above or below.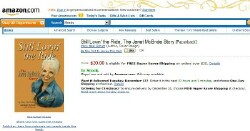 AWARDS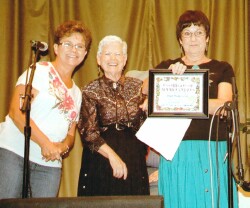 Above and below are two photos Janet sent August 14, 2012 regarding Pat Boileson's Medallion Award for her work on Janet's biography. The presentation, by DJ "Big Al," took place in Burton's Bend, Nebraska.
You can see larger versions by clicking these pictures. The first one includes book author Mary Schutz.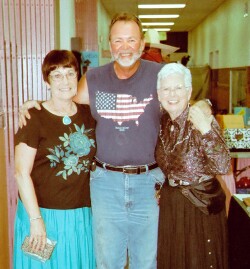 Janet said, of the photo immediately above: the guy with me and Pat is a very popular DJ at KRVN Radio in Lexington, Nebraska. He goes by BIG AL and he has a Sunday morning Gospel Show.
Pat is, of course, Janet's Fan Club President. How nice that she be rewarded after all of her effort on behalf of the Yodeling Queen.
Here is what Janet's friend, affectionately known as "Yodelin Juderbugg," wrote:
Whoo hoo!! CONGRATULATIONS Pat! :) Job WELL done and WELL deserved for all your hard, hard work, not only on the book but your wonderful newsletters also!
My Congratulations to ALL of you who worked so hard on such a magnificent book!! Everyone in my family has really enjoyed it! Plan to buy more as gifts. :)
Love to all...........Judy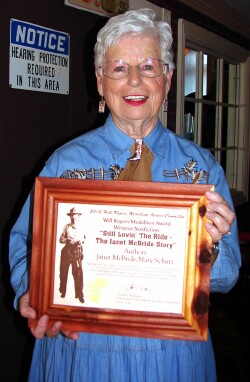 Please click to see a larger version.
Here is just one photo from Janet's Will Rogers Medallion Award at the Fort Worth Stockyards July 29th. The photo credit goes to her son, Claude McBride.

Upon receiving word that she won this award, Janet wrote: "This is wonderful me thinks. YIPPPPPEEE AND YAHOO." Below is the award letter written by Mr. Charles E. Williams.
June 30, 2012
Janet McBride
PO Box 850351
Mesquite, TX 75185
It is with a great deal of pleasure that I inform you that your book, "Still Lovin' the Ride - The Janet McBride Story ", has been selected as a 2012 Will Rogers Medallion Award Winner. The Will Rogers Medallion Award is presented each year to those books that represent an Outstanding Achievement in the Publishing of Western Literature. Your book exemplifies the combination of excellent content, high production values and honoring of the Cowboy Heritage that the award was created to acknowledge.
As you know, Will Rogers was a respected writer as well as cowboy entertainer. We hope and believe that the Will Rogers Medallion Award will help to expand the heritage of literature which honors the traditions and values of the American Cowboy, which Will did so much to embody and demonstrate. The Medallion Award was created initially to encourage the continued upgrading of the quality of published books of Cowboy Poetry.
Other categories have been added to honor a wide range of Western Literature, including Western Nonfiction. I am exceptionally pleased to let you know of this award, as it is a great book about a great person.
The Medallion Award Plaques will be awarded at the Ft. Worth Stockyards as part of the National Day of the Cowboy Celebrations on July 29th. We will have an award luncheon in Risky's Steak House on Exchange Ave. starting at 12:30.
Congratulations on your selection. We are especially proud to select a repeat winner. It was well deserved, and we hope to see further award-quality publications from you in the future.
Sincerely yours,
Charles E. Williams
Executive Director, Will Rogers Medallion Award Committee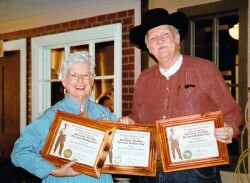 Upon request from her webmaster, Janet wrote to describe the three medallions for her life's story (in photos above and below, which you can click for larger views).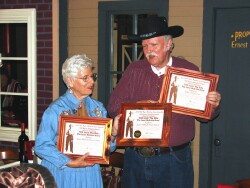 There are three [medallions], one for me, two for Mary [Schutz]. We each got one for Authors and it reads:
2012 WILL ROGERS MEDALLION
AWARD COMMITTEE
WILL ROGERS MEDALLION AWARD
WESTERN NONFICTION
'STILL LOVIN' THE RIDE
THE JANET MCBRIDE STORY'
AUTHORS
JANET MCBRIDE/MARY SCHUTZ
Having met the highest criteria for artistic merit, quality presentation, and universal appeal, the WRMAC is pleased to present The Will Rogers Medallion Award in recognition of outstanding achievement in the publishing of Western Nonfiction.
It is signed by:
Charles E Williams
Will Rogers Medallion Award Committee
DIRECTOR
Mary's reads the same but her second award is for:
PUBLISHER
Miles of Memories Productions
-o-