MORE ANNOUNCEMENTS
LeAnn Rimes on GAC Nights
LeAnn will be featured on GAC Nights' 'SUMMERFEST' Special. Her performance will be that of Summerfest in Milwaukee.
Here are the airtimes:
July 21, 2008 - 10pm and 2am eastern (9pm and 1am Central)
July 22, 2008 - 11am eastern (10am Central)
The show will also feature Cross Canadian Ragweed and Little Big Town.
Taylor Ware on Yahoo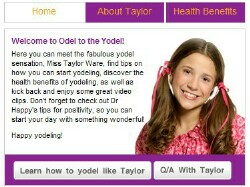 Janet delivered a note about Taylor's new website on Yahoo. You can read all about it on either our Calendar page or on our Taylor Ware Tribute page.
Mallory Hope Update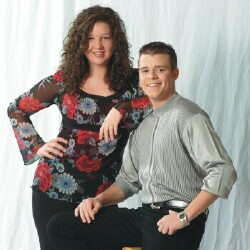 Janet recently presented a few words on the latest with Mallory Hope, seen above with Justin Tyler Wilson. We expect to have more details soon, but for now you can see Janet's words on our Mallory and Justin page.
Kacey Musgraves Demo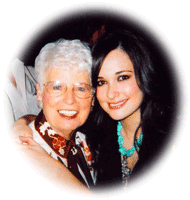 Janet just sent in a demo of Kacey's original song "Long Gone" and you can hear that number, and see a few words from Janet, on our Calendar page.
Janet also sent in a number of pictures from her gigs earlier this year. We are in the process of adding them to the site.
You can see two which involve Kacey (one of them with Chandler Bennett) by going to Kacey's page, and clicking the link with red asterisks in the menu on the upper right hand corner.
Patsy Montana Yodeling Championships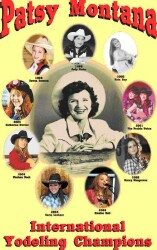 Janet emailed in a copy of the Patsy Montana Yodeling Championships Flyer, which lists winners over many years. You can see that flyer on our Calendar page.
Six Flags over Texas!
Janet will appear at Six Flags Over Texas during the Best of Texas Festival this year! Dates are listed on our Calendar page.
Gene Autry Museum Newsletter
Janet was in the Spring, 2008 Gene Autry Museum Newsletter as it announced her hosting position over the Showcase performances.
By clicking on the scans below, you will see a copy of the newsletter's front page, and then a close up of the section which announces Janet's hosting duties. Please note the attention paid to Chelsea Beck, one of Janet's protégés.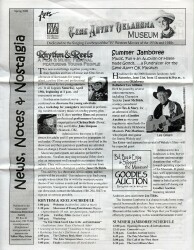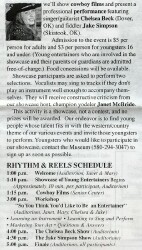 Congratulations LeAnn!

LeAnn Won CMT's "Collaborative Video of the Year" award for 2008 with Bon Jovi.
You can read her response and see all of the award winners by clicking the banner above.
Dallas Arboretum!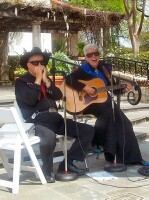 In the spring of 2008, Janet made several performances at the prestigious Dallas Arboretum. We added photos from those performances to our Features page.
Janet comments about these appearances on our Calendar page in the "Previous" section.
We also placed a link to the Arboretum website on our Links page. You can see it by clicking the "On Stage" tab.
A big "Thank You" to Ms. Ruthie Rogers for this honor!
Chelsea Beck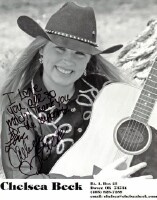 Janet had sent the above photo and others of Chelsea over the past two years, and we have now updated our Chelsea Beck page with those photos.
You will find them in a new section titled "Photos - 2006 & 2007." Some of the pictures included in that section are new to this website, and others are presented there a second time for your navigational convenience.
Brand New Award!
Janet received a new award from the Cowtown Opry, and she shares the details with us on our Calendar page in the "Previous" section.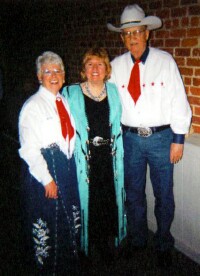 Please click to see a larger version.
This was the same show in which Cheryl Rogers Barnett (pictured above), daughter of Roy and Dale Rogers, appeared!

We added thirteen additional pictures to Janet's Scrapbook album, which you can see by clicking the "Scrapbook" button on our Photos page.
1989 MCMA Article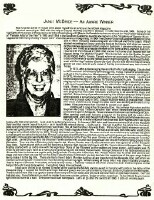 In 1989, Janet wrote an article regarding the MCMA and, in it, told a bit of her story. We placed that article for viewing on our Museum page. You can see it by clicking the first listing with the red asterisks.
Mesquite Opry Videos Online!
Janet recently announced that her Mesquite Opry Videos are going to be shown on the Texas Broadcasting Network website!
You can see the August 6th, 1994 concert by going to www.texasbroadcastingnetwork.com and clicking on Janet's picture.
It's an Awesome Show!
Janet and the Light Crust
Doughboys in 1993!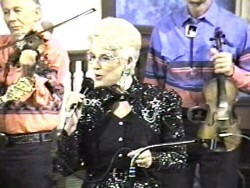 Janet created a DVD of the entire concert in which she appeared with the Doughboys at the Pocket Sandwich Theater in 1993.
We put a picture album of screen grabs from that DVD on our Photos page.
Congratulations Paula Cravens Press!!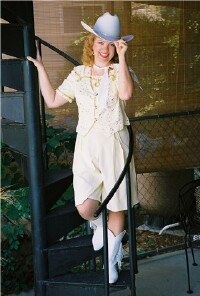 We created a tribute page for both Paula and Ermal "Duke" Williamson detailing recent successes for both of them here.
LeAnn Rimes at the NBA Finals
What a privilege that our LeAnn sang the Star Spangled Banner at the NBA Finals game two! Below are four clickable screen grabs from that performance.
Janet and John Appear Before President Ronald Reagan!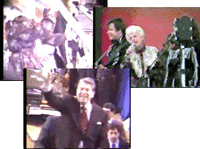 On November 5, 1988, President Reagan visited the Mesquite Rodeo to give a speech, at which Janet and the Mesquite Opry Regulars performed. Janet's husband John took a video of the proceedings, and we have three clips from that event on our video page.
Mark McBride's Video from Desert Storm!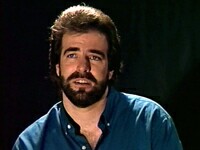 Janet's son, Mark McBride, sang in a video dedicated to our troops during Operation Desert Storm. He performed the song "Cards and Letters" by Sheryl Caddick, and it, too, is now on our video page.
Ever More Songs from Janet's New CD!
We keep adding songs from the Honky Tonk Ballads CD onto our Audio page, bringing the total number, now, to thirteen. Janet sent in photos from the 60s, one featuring herself with then husband Mr. Claude McBride, and the other herself with a DJ and Vern Stovall. We placed them, alternatively, with the first four songs in the "Announcing" section.
Our eventual goal is to include all the Honky Tonk CD numbers for stream-only, as many DJs have expressed an interest in playing them on their station(s). Special thanks goes out to Denny Mager at KAXE-FM in Grand Rapids, Minnesota for his recent request.
You can find high quality pictures from this CD's J-card on our Features page.
We placed ordering details on on our Links page. Just scroll the page down until the frame is totally in view, then scroll the frame to get all of the details!
Additions!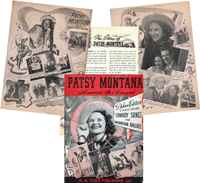 As part of a "goodie box" for her webmaster at Christmas time, there was a Patsy Montana Songbook dated 1941 from Janet. We began a section displaying excellent historic photos from that songbook on our Patsy Montana page.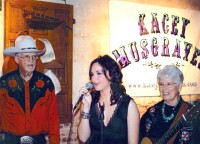 Please click to see a larger version.
Janet and John appeared with Kacey Musgraves at a "going away" concert of sorts before she went to appear on the Nashville Star program. Janet recently sent in the above photo from this event.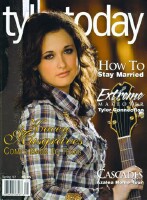 True to her nature of Genuine Humility, Janet never indicated that her name was in big letters for the article about Kacey Musgraves in Tyler Magazine, dated Spring, '07.
We will eventually put captures of these words in our Kacey Musgraves section, but, for now, you can see them, and the text from which they were drawn, by clicking the photos immediately below.
Janet appears regularly at the Annual Campfire Tales Festival in Fort Worth, and this year the Star-Telegram even posted an article about it, which we had a link to when it was still on-line.
Janet sent in examples of her "calling cards" for this event, which we will someday put on her Museum Page, but, for now, you can see by clicking the three photos below.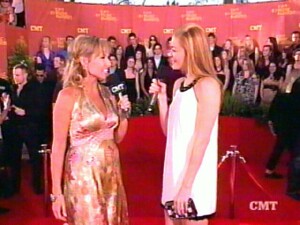 Please click to see a larger version.
LeAnn Rimes appeared as a presenter at the April 16, 2007 CMT Music Video Awards. Above is a screen grab from her red carpet interview with Katie Cook.
Below are LeAnn's comments about her red carpet experience.
We left the house at 4:30pm and hit the red carpet by 5:15pm. There were a ton of fans everywhere! I made a stop to sign for everyone before I did my glorious walk for the cameras!
After our walk down the red carpet, where I took pictures with Kelly Pickler and Emerson Drive, Dean and I snuck a quick bite of food in backstage. I then went to my dressing room to find Roseanne Cash sharing it with me, LOVE HER! I ran into Kris Kristofferson, whom always thanks me for recording "Bobby McGee." I continue to tell him it's the best song ever! He shrugs it off, too modest!
You can read LeAnn's entire journal by joining her fan club at the link listed below, and view CMT's page about her at the link below that.
Charlotte Autry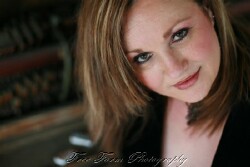 We have updated our Charlotte Autry page to include her three most recent Emails, all dated 2007. Things are happening rather rapidly this year.
Congratulations Charlotte!
Lori Faith Merritt
Ms. Lori Faith has authorized us to use the photo at the top of this page as our official picture for the home page of Janet's website. Ms. Merritt is gifted beyond measure, and we don't know how to thank her enough!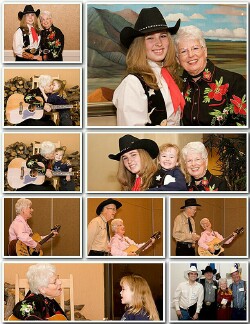 We added four other new pictures by Ms. Merritt to our Lori Faith Merritt page. Following those we placed a brand new message about her current website changes.
Janet Will Host the 2007 Gene Autry Summer Jamboree!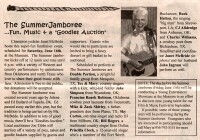 If you go to our Features page, you will see images from the latest edition of the Gene Autry Oklahoma Museum Newsletter.
In it is a nice article on Janet, and you'll be able to read it there. This role of Janet's is especially significant on this, the 100th anniversary year of Mr. Autry's birth.
New Emalea Dell Video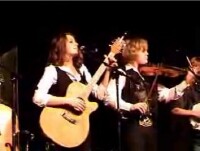 Emma Hall just notified us that this video of Emalea and her group singing Saturday, March 10, 2007, is available for viewing. You can find the link on our YouTube page.
Catherine Bowler in Brio Magazine!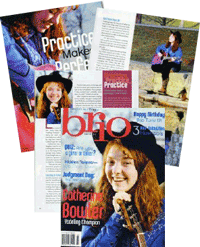 Janet sent scans of the new Brio Magazine cover and pages regarding yodeling champion Catherine Bowler, and you can find them on our Features page. Once you're there, simply click on the "Young Yodelers" tab, and you'll see them.
We've also added Janet's comments about her current at-home hi-tech transformation project on our Calendar page, along with numerous new dates for her schedule.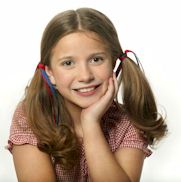 On our Taylor Ware tribute page, you can find a link to her new Fan Forum, as well as a sample yodel ready to stream.
There is much, much more to come!
New Audio and Video!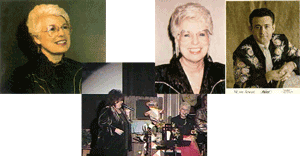 We recently added three cassette songs by Janet to our audio page, and a video of Janet and Karol Dyess singing "Grown Man Lie" on our video page.
YODELER OF THE YEAR!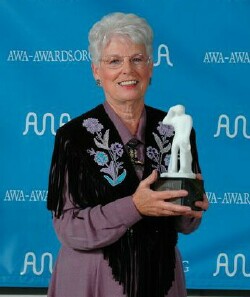 Janet won the prestigious "Yodeler of the Year" Award from the Academy of Western Artists for 2006! We placed a few related photos on our Features page.
Congratulations Janet!
Six Questions
What do you do when you're the Yodeling Queen and a group of people (who want to start a website on yodeling) send you pertinent questions about your good self?
Why, answer them of course! Please see our Calendar page for the discussion.
Bart Plantenga's "Rough Guide To Yodel" Is Out!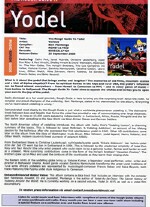 Janet is featured prominently on Mr. Plantenga's new CD, and Janet describes it on our Calendar page.
We placed a copy of the Press Release regarding the CD, and a brief note from Mr. Plantenga himself to Janet, on the same page.
Mr. Mukai Pays Another Visit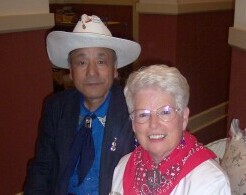 Mr. Mukai is the great fan of Janet's who lives in Japan but visited the United States last year just to see Janet perform in person. He returned this year and, once again, saw her with the Buckaroo's in Fort Worth.
Janet will be sending a picture and more information, but, for now, we placed a faxed message just received from Mr. Mukai on our Calendar page as well.
TEXAS HIGHWAYS MAGAZINE!

Congratulations Janet for your mention in the current (August, 2006) issue of Texas Highways! Janet talks about the article on our Calendar page.
Cassette Recordings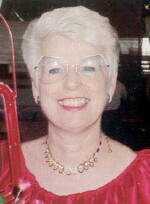 We recently added six new songs digitized from, and only available on, cassette tapes! The most recent three are under "Announcing" on our audio page, and the others are under "Cassettes."
It is our goal to one day provide all of the cassette songs not yet transferred to CD, as well as all of the LP songs in the same status. Enjoy!
Mike Johnson!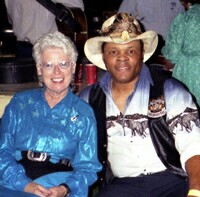 We now have a tribute page on Mike with a couple of photos, his newsletter, a flyer page, some of his excellent writing and more. You can visit it here.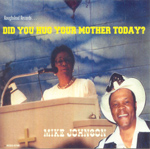 We just added three excellent and classic-style songs from Mike's CDs. You can hear them on our audio page.

We created a new photo album containing forty-three screen-grabs from Mike's DVDs, and you can reference that album on our photo page.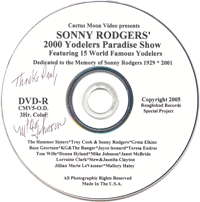 We've digitized some of the performances on Mr. Johnson's two DVD set, and placed them on our Video page.
Janet wrote a few words about her appearance on one of these DVDs, and we quoted her on our Calendar page.
Sandy K. Laughlin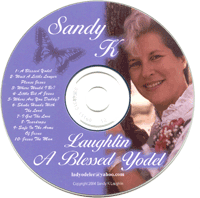 Ms. Laughlin sent us her magnificent CD. She is quite the singer and songwriter. We've placed 3 of her titles on our audio page.
Thank you Sandy, very much!
-o-