Product Orders,
Information Requests,
and Comments to Janet:
You can now order several of Janet's products directly from the Internet by going to Mary Schutz's website for Janet here (pictured below). That page will accept your PayPal payment directly. Thank you, Mary, for all of your hard work on Janet's behalf!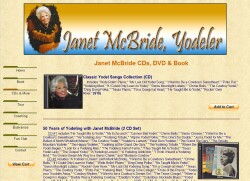 To order any of Janet's products from this website, please fill in each field below, clicking any or all of the radio buttons, if they apply.

Please use the comment area to provide an address to which you want the item shipped, to list a product other than the CDs listed, or to simply "say howdy."

Please do Not send credit card information.

Once you press the "Submit" button, an Email will go directly to Janet. She will reply with instructions as to exact cost, and payment by PayPal, check or money order.

Thank you for your interest!
Product prices are as follows (foreign postage varies):
Book: "Still Lovin' the Ride"
$20 for the book itself, and $3 postage (if being sent within the U.S.)
Two CD One Box Set: "50 Years of Yodeling"
$25 (which includes postage in the U.S.)
All Single CDs:
$12 plus $3 postage (in the U.S.)
Fan Club Requests
forwarded to Pat Boileson,
Fan Club President.
---
If Emailing is more your style, then please press either of these "brands."


Happy Trails!
---