ANNOUNCEMENTS
Janet Sees
LeAnn Rimes-Cibrian
At Choctaw-Durant!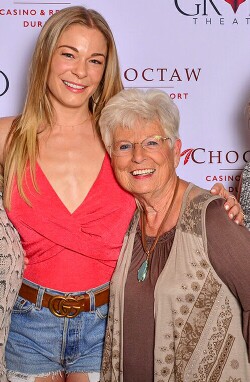 Please click to see a larger version.
Our Janet went up to Durant, Oklahoma to see LeAnn Rimes-Cibrian perform at the Choctaw Casino on July 1. This is the picture taken of the two of them. We will have Janet's words on the occasion in the very near future. And we'll be sharing this on social media today.
Thank you, Miss LeAnn!
Brook Wallace Deaton
Wins People's Choice Award
At Texas State Fiddlers
Championship!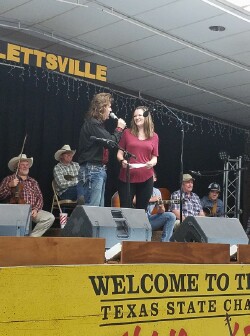 Please click to see a larger version.
Brook posted this photo on Facebook Sunday, April 23, and here are the words which accompanied it:
Brook Wallace Deaton shared Texas State Championship Fiddlers Frolics's photo.
It made my day being chosen as the recipient for the People's Choice Award today. Thank y'all so much.
You can see the page we did on Brook years ago by clicking here. As you may or may not know, you could hear Brook play her violin on January 20th during one of President Trump's inaugural dances. Way to go Brook!
Happy Sixth Anniversary
LeAnn and Eddie!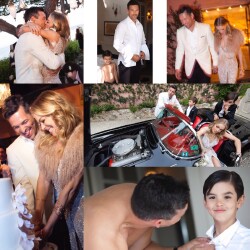 Please click to see a larger version.
LeAnn and Eddie celebrated their sixth wedding anniversary April 22 of this year. Above is the photo LeAnn posted on Twitter, with the following words:
6 for 6! My heart overflows with LovE for these humans. This was one of the most joyous days I've ever experienced
#6yearanniversary #LovE
Congratulations, LeAnn and Eddie!
Janet and the Shirleys
At the Gene Autry Dallas
Fan Club Luncheon!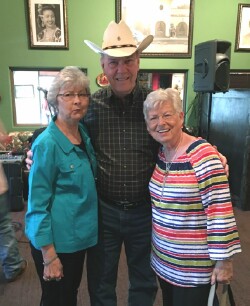 Please click to see a larger version.
Roy Tucker was kind enough to send Janet a link to several photos from the Gene Autry Fan Club luncheon in Dallas on April 15th. This is just one example where Janet poses with Mr. and Mrs. Mike Shirley. To see the rest of the pictures, please just click here. It looks like everyone had a great time.
Thank you, Mr. Tucker!
Beth Williams
Playing Janet's Songs!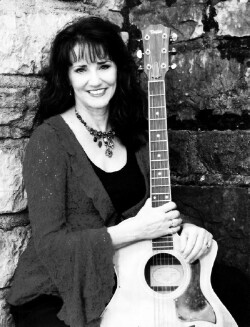 Please click to see a larger version.
The photo above is of Gospel singer and yodeler Beth Williams. Here is how Janet described her:
This girl is a very sweet gal. She will be playing some Janet McBride on her shows.
In her Email to Janet, Miss Beth stated the following:
The Gospel Yodel will be on my show this week. It's at the end of the show, right before my song at the end. Saving the best for last!
It airs Mountain Time:
Thursday 9:30-10:30pm
Sat. 11:30 - 12:30pm
Sunday 8:00-9:00 pm
After that, the show will be archived on my website:
bethwilliamsmusic.com/radio-shows/
With Love,
Beth
Miss Beth has two websites, and clicking on the links below will get you to them. Thank you so much Beth Williams for your ministry, and for choosing our Janet's songs to play on the air!
[Webmaster's Edit: this webmaster mistakenly thought that Miss Beth was singing Janet's songs, but she is instead playing them. Miss Beth announced on Facebook that Janet can be heard at this link, and that she is on show #11. Thank you so much, Miss Beth!
www.BethWilliamsMusic.com
www.BethWilliamsGospelSongs.com
Mesquite Opry
Memorabilia!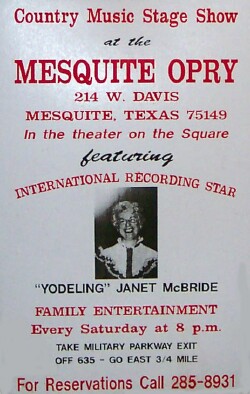 As mentioned below, Janet now has a Mesquite Opry page on Facebook, and this webmaster has been showcasing some of the memorabilia that she donated to him over the years. You can see larger versions of these two items by clicking on them. Here is what Janet wrote in a comment on one of the photos in Facebook:
I can't take all of the credit for staying with the 'Country Music Sound. The Mesquite Opry Band were some of the best 'pickers' available for the time. Thomas Miller on bass, Joe Digilia on lead and steel guitar. Paul Polish on drums, Jerl Welch on harmonica and Connie Miller on piano and me playing rhythm. Thomas could make a chart while running through rehearsal which made it easy to play each song to perfection.
Musicians over the years were always the best. Junior Knight, Mike Tucker, Art Greenhaw, to name a few, went on to do some great stuff in music.
The regular talent knew how to sing a country song and best of all they always picked the best of the day. That era brought some wonderful country sounding songs. Strait, Chestnut, Travis, Skaggs, Alan Jackson, Connie, Loretta, Tammy, Reba, Jones, Willie, Haggard, Louvin OH MY.
On Saturday Night in Mesquite TX at the opry you would hear something you liked. Yep, even a yodel. So many stories happened there and WE WERE ALL STARS FOR TWO HOURS for nearly 15 years.
By the way, we knew The Good Lord was the reason we were able to hang on that long in that little old theater. Our regular attendee's were also wonderful friends & fans and volunteers. It took everyone to make it work. John and I were just The Trail Bosses.
Thank you, Janet!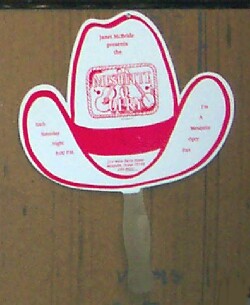 Mallary Hope
Debuts New Single!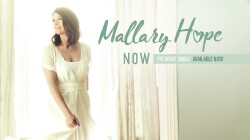 Please click to see a larger version.
On April 14, Mallary Hope posted a video for her single "Now" from her debut gospel album with Curb Records. You can see that video by going to her Facebook page at this link. What wonderful, long-awaited news for her fans!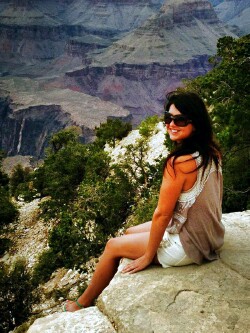 Mallary has always been extremely soft-spoken about her great beauty; but then so has our Janet. Compare the photo above, taken July of 2013 with a photo of Janet below from 1950. Dr. J. Vernon McGee used to preach: "why should the devil have all of the beautiful women." As can be seen, he clearly does not! (clicking on each of these photos will bring up larger versions)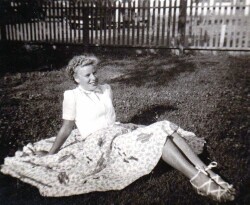 Janet's Publicity Poster
Signed to her Webmaster!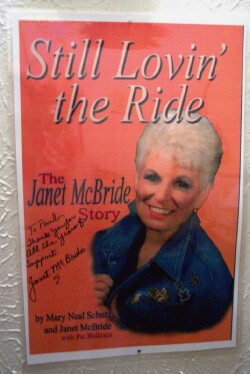 Please click to see a larger version.
Some years ago, Janet sent her webmaster this large poster which hangs on a wall in my hallway. It was very difficult to capture its brilliance, what with lighting challenges, lamp shadow, and all. But to have her signature, and the memorial of her life's work, well ... this needed to be shared!
Mesquite Opry Page
Now on Facebook!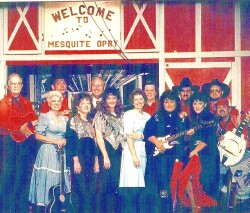 Please click to see a larger version.
Emma Tucker Dixon started a Mesquite Opry page on Facebook, which you can go to by clicking here. As of April 16, this webmaster was granted administration privileges to that page, which is such a great honor! Many exciting posts are planned.
Janet's Albums on
CD Baby!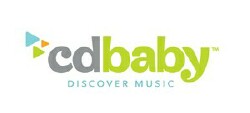 You can buy several of Janet's album CDs on CD Baby by clicking here. Below is a screen grab of what CDs the page presents. Congratulations, Janet!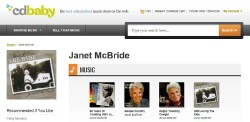 Please click to see a larger version.
Dallas Gene Autry
Club Added To
Calendar!


Please click to see a larger version.
Above, you can see the posters for the April and July meetings of the Dallas Gene Autry Club, which Janet usually attends. We've added those dates to Janet's Calendar Page here. What a celebration of talent in remembrance of this great cowboy!
Janet's Donation to the
Country Music Hall of Fame
Re: Patsy Montana!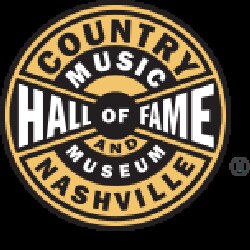 On April 6th, the day after Janet's birthday, she emailed her webmaster this exciting announcement:
We can now announce and talk about it.
I have donated my collection of PATSY MONTANA memorabilia to 'THE COUNTRY MUSIC FOUNDATION' in Nashville. The foundation operates the Country Music Hall of Fame and Museum and they have issued a DEED OF GIFT to confirm that they have received and accepted my donation.
If counted piece by piece, photo by photo, negative by negative, album by album it would number well over 400 items. Many [of them] came into my possession through Patsy's family members Beverly Losey (who is Patsy's Daughter) and Beverly's Son Michael (who is Patsy's Grandson) and Ruth Dennett (who was Patsy's last Fan Club President).
Because of their friendship and their trust in me to look out for and care for Patsy's Legacy I was able to amass this collection.
I have reached an age where I wanted to 'DONATE' my collection. The CMA HALL OF FAME AND MUSEUM was my first choice.
In November of 2016 I contacted Mick Buck, who is the Curator there, and he immediately said "please send me everything you have on Patsy Montana," and it was then I began to gather everything up and to write an explanation as to what each item was and to why it was important to Patsy's Story.
I shipped 5 packing boxes to the HOF in late March, 2017 and I signed my 'DONOR' papers on April 5th, 2017 [Janet's birthday]. I was on 'cloud nine' when they said they wanted my collection.
Patsy's Memory will now live on.
Janet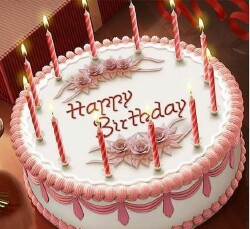 What a birthday event! When asked for some clarification as to some of the terms she used, here was Janet's reponse:
A donor means that I 'gave' them everything and relinquished any claim on each and every piece in the collection. "Donor Papers" have listed each of the items in the boxes. Of course some stuff is listed 'photos' [or] 'book of photos' and each piece in that case is counted as one.
I am entitled to nothing actually. I just 'gave' it all away and signed that I was the owner of it all. They do not say they will display anything but it is a possibility, which would be great.
They will be able to use it for research, educational programming, on their website, audio and videos also included so there is no telling what will become of any or all of what they now have.
It is a 'big gift' and a 'big step' for the Patsy Montana Legacy.
Thank you, and congratulations Janet for this wonderful contribution to music history!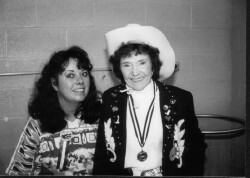 Please click to see a larger version.
Janet later added the following:
Let's be sure to mention JANE FROST who was the lady who started the Patsy Montana Yodeling Competition and was the 'trail boss' for the entire 10 YEARS OF ITS RUN.
Above you can see Miss Frost with Patsy in Hope, Arkansas at their first meeting. She posted the photo on her Facebook page in July of 2011. Thank you, Miss Frost, for all you do for Patsy Montana!
-o-
Things are getting exciting now! During the first part of this year of 2017 the webmaster has acquired new equipment, and it should only be a matter of days before we are into regular posting of Janet's archived Mesquite Opry videos! In the meantime, we wish the happiest of birthday weeks to our Janet, and do thank her for all she has done in Country Music!
Two Songs from
Janet's New CD
"Here I Am!"
Picking sample songs from Janet's new CD was a difficult task, as there were so many favorites. Chosen were two that were not already on this website. You can click the little speaker icons to listen.


Who Is this Jesus Person?


Like You Did
Note from the webmaster on "hurtin' songs:" on the inside of Janet's CD, Tex and Mary Schutz refer, with great reverence, to Janet's "crying-hurting" songs. After years of theological studies, this webmaster would like to point out that these songs suggest a Standard of Right-ness.
In each one that Janet wrote, there is the teaching that a happy relationship, with loyalty and dedication, are the Right way to enjoy Romance. Congratulations to Janet for finally meeting her John Ingram--who fulfilled, for her, that teaching.
We will forego placing these on our Audio Page until after the webmaster has upgraded his computer system.
JANET'S LATEST CD AVAILABLE!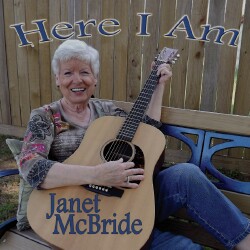 Janet's new CD "Here I Am" is now out of production and ready for purchase! On it are twenty-seven songs, with one brand new release.
The new number is "The Lottery," listed as song #17. The rest have been remastered and re-issued, the mastering done by the late Phil York, who produced Willie Nelson's "Red Headed Stranger."
To order this CD from Janet, just send $15 PPD to the address listed immediately below:
Janet McBride
P.O. BOX 850351
MESQUITE, TX 75185-0351

You can contact Janet via her Email by clicking here.

Janet previously forwarded pictures of the front and back of this CD, which was produced by her friend Mary Schutz. With both photos you can click for larger versions.

There is a story to tell about "Here I Am" -- why Janet chose the songs she did, where they came from, and more. We plan to present that story, in detail, after the webmaster upgrades his computer system.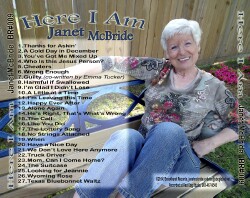 Janet's Original Song
"A Cowgirl's Dream"
Featuring Patsy Montana
A Video on YouTube!
Says Janet: This is just finished. Mary Schutz did the work. The young girl is Mikki Daniel.
Check out all of the clips of Patsy which are some of the stuff we pulled from the 16mm and 8mm film in her closet. Just too cool.
You can view this video by clicking here.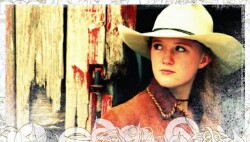 You can see what Mikki wrote about Janet in her "First-Quarter" 2014 Newsletter on our new Mikki Daniel tribute page here.
There are, obviously, many things to add about the making of this video. As with the new CD above, that information will be coming soon. In the meantime, you can see what Janet wrote about the creation of her song "Yodeler's Dream" (posted on Roy Tucker's website) by clicking this link.
In Memoriam
John Ingram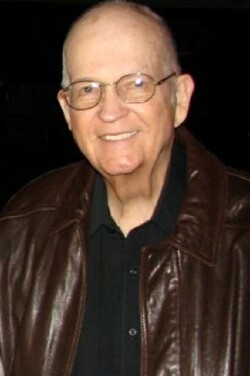 Please click to see a larger version.
On December 22, 2010, Janet's husband John Ingram went home to be with the Lord. Just a few days before that, he was with Janet and their granddaughter when this photo was taken. Here are Janet's words:
We all commented that night at how great John looked and how he was able to climb the stairs at the restaurant and how happy he was.
I had not seen this photo until last week. I did not take the camera that night but this photo was taken by Devri McBride. It was her Birthday dinner at a restaurant in Dallas.
How cool is that photo?
You can see all of our tribute information regarding John by clicking either here or on the menu button to the upper left entitled "John." Thank you, Devri, for sharing that picture!
MORE ON JANET
CHANGES IN
CONTACTING JANET
This webmaster is sorry, but, as explained in our ordering sections on this page and the Orders page, the forms we used to use to contact Janet were generating from 50-75 spam Emails a day. Each one had to be examined closely in case it came from you, one of Janet's fans.
We have therefore removed the forms, but left the Emails with which to contact Janet or Pat Boileson, Fan Club President. We've also included product price information on Janet's new CD, "Here I Am."
Janet on Twitter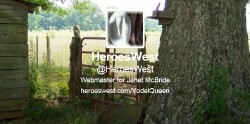 Our Janet is far too busy to maintain a Twitter account herself, but this webmaster posts photos of her under the HeroesWest brand.
If you have a Twitter account, just search with hashtag #JanetMcBride, then click "all," and you will see the postings listed.
Mesquite Opry DVD!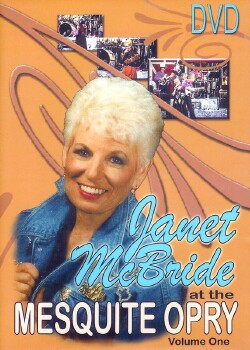 Janet's friend and biographer Mary Schutz created a DVD with clips from various Mesquite Opry performances! By clicking either photo above and below you can get larger views. If you're interested in purchasing a copy of this DVD, you can go to Mary's website for Janet here, and scroll down the page. You will see several other products by and about Janet. Each one can be purchased from Mary's website through PayPal.
Janet's Biography on Amazon!

You can now purchase Janet's new book, Still Lovin' the Ride, on Amazon! Just click the screen grab below.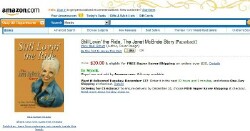 You can also download two of Janet's mp3s from Amazon by clicking this link, or several of her CDs by clicking here. Congratulations Janet!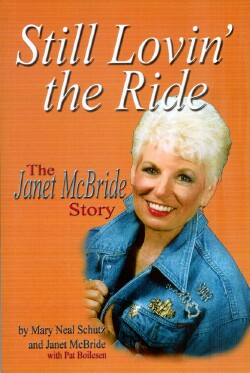 Janet is grateful for the response to her new book. You can see larger versions of both front and back covers by clicking the photos above and below.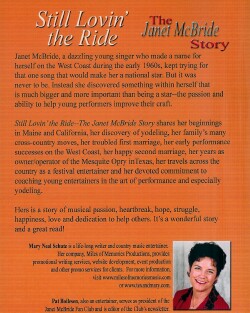 She worked for nearly two years with both Mary Schutz and Pat Boileson to create this very interesting, entertaining, and informative biography of her life. Ms. Schutz is a web designer in her own right, and has decided to create a website for Janet and this book. You can learn much about both when you visit that website by clicking the picture below.

Janet says of this new site: "It is meant to put the book out where it can be seen and purchased hopefully." Congratulations to Janet, Mary, and Pat!
You can now order this book, or the "Still Loving the Ride" CD, by choosing radio buttons on our order submit form! You can also see a list of product prices just above that form.
-o-