We have, currently, three Media Pages...this one, which features videos that are on YouTube, an Audio page, which showcases songs we've uploaded to the website's server, and a Video page whose contents are also on that server. You can use the drop down list above to visit whichever page you wish.
We are planning to expand these, of course, as time progresses, but these early forms are a result of our website reformatting project. Blessings.
-o-
Janet's YouTube Channel
Janet has her own YouTube Channel with several videos from her days as host of the Mesquite Opry days. It's called "YodelingJanetMcBride." Clicking each picture below will take you to the movie on that channel. Holding your mouse over each picture will give you that video's title.
Special Video
By Mary Schutz
"A Cowgirl's Dream"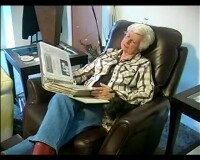 Mary Schutz created this wonderful video for Janet's song by using photo sequences of Mikki Daniel, and then both still and moving pictures of Patsy Montana. Just click the photo to see it.
Video with Janet's
Song "Mama"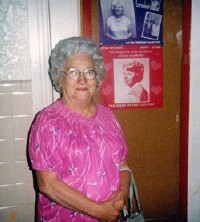 This webmaster created the video above by using several photos of Janet's mother taken throughout the years. Please click and enjoy!
This webmaster placed other videos involving Janet on a YouTube channel related to HeroesWest.com. Just click on each icon below to see them.
To find all videos at YouTube mentioning our Janet, with one click of the mouse, use this link or the YouTube logo above.
Janet and the Gabucans
Janet accompanied the Gabucan sisters as they sang at the 2006 Patsy Montana National Yodeling Competition. Clicking each picture below will take you to their movie.
Emalea Dell and the "Rockin' Acoustic Circus" Youth Band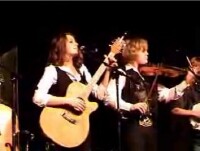 Clicking the above photo will take you to the March 10, 2007 performance of Emalea and her group.
Says Emma Hall on March 12, 2007: Hi everyone. I thought you would enjoy this. It is at the Rodeo Opry in Oklahoma City last Saturday night. They received two standing ovations.
LeAnn Rimes
The link below is, obviously, a reprise of what we have on our main page, repeated here for organization of content purposes.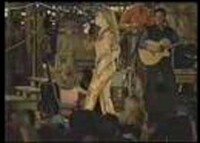 This picture links to a YouTube post of LeAnn singing Patsy Montana's "Cowboy's Sweetheart" on Disney. Look for the Mesquite Opry's Junior Knight playing the steel guitar, and LeAnn's magnficent yodeling style.
Janet, you done good!
Aly Sutherlin
Mrs. Sutherlin, Aly's mom, wrote the following about YouTube postings for Aly:
If you go to www.youtube.com and search on Aly Sutherlin, you can see some videos -- just some mpgs that we had.
There are some of school friends, theatre friends, Connect band, Clinton, Christmas, etc.
Some others were uploaded, but don't show up yet, and we'll probably add more later.
Clicking the picture above automatically searches for young Ms. Sutherlin's videos.
Here's what Janet had to say:
Aly Sutherlin is one of the Buckaroo's but isn't as active as she used to be since acquiring so many gigs closer to home.
She did come down to the Texas State Fair on Buckaroo's Day in October of 2006.
John and I love this little gal. She is a bundle of talent.
Emalea Dell and Eric Dysart
Clicking the picture above will take you to the YouTube video of Emalea and Eric singing "Blue Moon of Kentucky" at the Centennial Rodeo opry. Credit goes to Mr. Gregory Rice for producing this video and uploading it to the YouTube site.
Ms. Emma Hall informed us of this link, and sent along with it some very kind words.
To Janet and all our friends:
This little video was e-mailed to me and I thought you all would enjoy it. Janet and John are two of the best mentors to young and old alike. She is a treasure we will always hold in our hearts. Emalea loves them. We wish we could be closer to them, so she could learn even more. My most favorite picture is of Emalea when she was five getting her first yodeling lesson with Janet at the Patsy Montana yodeling festival.
Thank you for the nice web site. I get to keep up with Chelsea Beck and other people that we don't get to see but 2 or 3 times a year.
A friend
Emma Hall
Emalea Dell
-o-