January 16, 2016

Re: Janet's meeting with Jeneve Rose Mitchell and Mikki Daniel...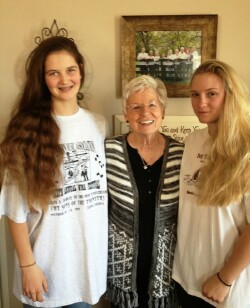 Please click to see a larger version.
I listened to Jeneve sing "Crazy" and "In the Arms Of The Angels" for her next competition and suggested her rendition of "Crazy" is awesome and my suggestion pick.
We will see. She would play harp on "Angels" but "Crazy" [is] so good.
January 10, 2016

Re: Janet talks about Mikki and Jeneve...
I drive up to Mikki's [Daniel] house Tuesday. There is a mentee in the [American] Idol top 14 and [I am] going up there to work with her on yodeling.
Her name is Jeneve Rose Mitchell and she is a very talented 15 year old. I met her at WMA three years ago and I am very impressed with her because she is not in the 'cookie cutter category' which [is what] got her noticed.
Mikki [Daniel] is a beauty. She has had some impressive gigs and more to come. We'll watch the RFD-TV stuff to see just what they are doing there.
I will have photos from Tuesday of me, Mikki, and Jeneve.
This is a 'really different talent.' There is a place for her but, like ROGER MILLER, it may be with her self penned songs. I love her songs also. Funny stuff.
January 10, 2016

Re: Janet's first comments for the new year...
Buckaroo's today. [We] keep gathering in yodelers.
Don't forget the 50 Years of Yodeling CD. CD Baby has it available cheap compared to Ebay.
I did not hear about Mallory Hope and a new [record] contract. Good for her. She is a good song writer, so she is always of interest to Nashville publishers.
Did not hear about Kacey's [Musgraves] boots [being stolen]. What a bummer for her. Those are special made for her and she has a contract with them. They will be replaced but that isn't what this is about.
-o-