ANNOUNCEMENTS
Janet and Mikki Daniel at
The Gene Autry Fan Club
Luncheon in Dallas, Texas!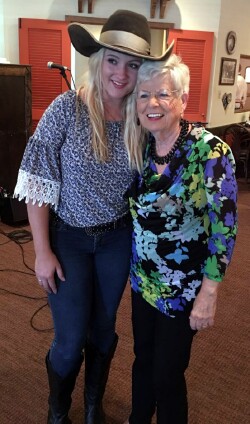 On September 15, 2017, our Miss Janet visited the Gene Autry Fan Club locally, and met up with none other than Mikki Daniel, who was the featured performer. You can see their picture together above. Of the experience, Janet said the following:
I did [go to the luncheon] and it was 'SWEET' for everyone to see an ALL GROWN UP Mikki.
The last time any of the folks who were there yesterday [saw Mikki] was about 4 long years ago.
It was a SHAZAM moment for them :-)
Also joining in the festivities was Leslei Fisher, from the Gene Autry Museum in Gene Autry, Oklahoma. When Janet emailed that her "web guy" wanted details as to her position there, here is what Miss Leslei wrote:
My title is Executive Director. And Leslei Fisher is the correct spelling of my name :)
It's a great photo, I'm honored.
Thanks, always wonderful to see you.
Hugs,
Les
Miss Leslei is pictured below, with Janet and Mikki, in a photo from her phone. You can get larger versions of either of these pictures by clicking on them. You can see more pictures of the luncheon by clicking this link. Thank you Mr. Roy Tucker for posting your photos!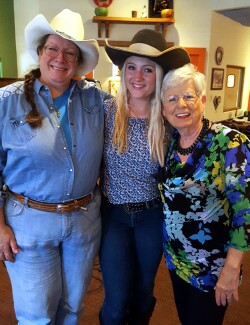 Brook Wallace-Deaton and
Dusty Deaton
Appear as "The Band"
On Local Television!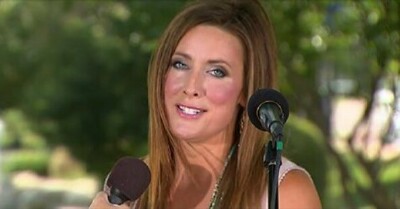 In Dallas, our local CBS station, Channel 11, has a Friday morning segment on their news show called "11 at 11." On September 15, our Brook Wallace-Deaton appeared with her husband Dustin to accompany Jennifer Nickerson in an outdoor concert. I notified Janet, and she wrote back:
Leaving for the Gene Autry Lunch but did set the timer. TKS
As it turned out, Dusty was wearing a Krystin Harris T-shirt! When Kristyn found it out, she posted in Facebook on September 17:
One of my Kristyn Harris T-shirts ended up on CBS Channel 11!!
Hope y'all got to catch Brook and Dusty Deaton on TV the other morning... hey, you can catch Brook, Jeanne Cahill and myself in Branson this week too!
#thankyouDusty!
#tshirtsareforsale
#BransonBound #butstillinArizonaatthemoment
You can see the performance online by clicking here. Congratulations to Jennifer, Brook, and Dusty!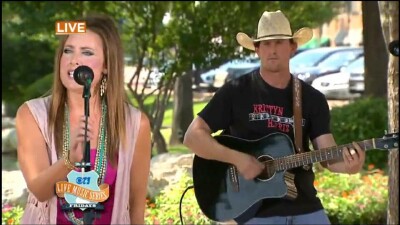 Please click to see a larger version.
Janet Sees
LeAnn Rimes-Cibrian
At Choctaw-Durant!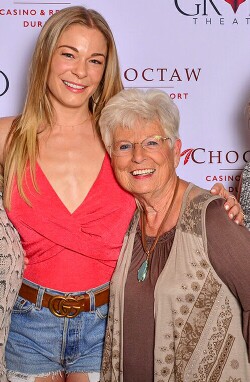 Please click to see a larger version.
Our Janet went up to Durant, Oklahoma to see LeAnn Rimes-Cibrian perform at the Choctaw Casino on July 1. This is the picture taken of the two of them. We will have Janet's words on the occasion in the very near future. And we'll be sharing this on social media today.
Thank you, Miss LeAnn!
Mesquite Opry Page
Now on Facebook!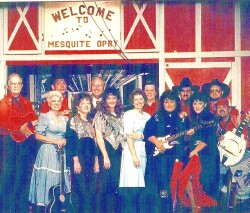 Please click to see a larger version.
Emma Tucker Dixon started a Mesquite Opry page on Facebook, which you can go to by clicking here. As of April 16, this webmaster was granted administration privileges to that page, which is such a great honor! Many exciting posts are planned.
Two Songs from
Janet's Newest CD
"Here I Am!"
Picking sample songs from Janet's newest CD was a difficult task, as there were so many favorites. Chosen were two that were not already on this website. You can click the little speaker icons to listen.


Who Is this Jesus Person?


Like You Did
Note from the webmaster on "hurtin' songs:" on the inside of Janet's CD, Tex and Mary Schutz refer, with great reverence, to Janet's "crying-hurting" songs. After years of theological studies, this webmaster would like to point out that these songs suggest a Standard of Right-ness.
In each one that Janet wrote, there is the teaching that a happy relationship, with loyalty and dedication, are the Right way to enjoy Romance. Congratulations to Janet for finally meeting her John Ingram--who fulfilled, for her, that teaching.
We will forego placing these on our Audio Page until after the webmaster has upgraded his computer system.
-o-