ANNOUNCEMENTS
LeAnn's Anniversary!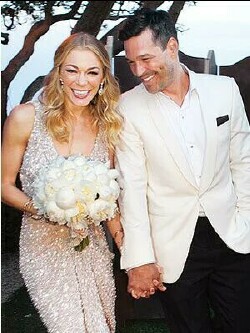 LeAnn Rimes celebrated her wedding anniversary with Eddie Cibrian on April 22. Here is what a friend of hers, Troy Roberts, posted on Twitter early in the morning along with the above photo:
Happy Anniversary to these 2 wonderful people, @leannrimes & @EddieCibrian . You are a constant reminder of what true love really is. May you have many, many, many more blissful years together. We love you guys!
Congratulations, yet again, LeAnn and Eddie!
Janet's Birthday!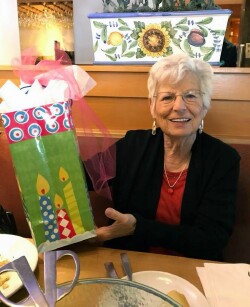 Please click to see a larger version.
Here is the photo posted of Janet on Facebook for her birthday April 5th. To protect her privacy, few details were included. But it shows the love people still have for her, and that ever magnificent smile!
Janet only performs a little these days, but she is still out there, attending Gene Autry Fan Club luncheons in Dallas, and even the WMA Awards in Albuquerque in 2017.
As we post more and more about her on Facebook, it is clear that she is still loved intensely by many, and what a joy to read their comments.
Happy birthday Janet!
ACMAs 2018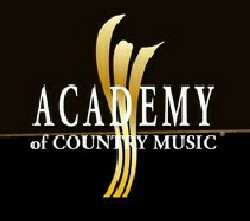 April 15 is the date of the ACMAs for 2018, broadcast on CBS. We mention that here because, as most of Janet's fans know, she appeared, and won an award, in each of the first two of these Awards gatherings when they began.
Though none of Janet's mentees were included this year, we still want to honor Janet for all that she has contributed to this organization, including various mementoes for their museum. Thank you, Janet!
Janet's Buddies!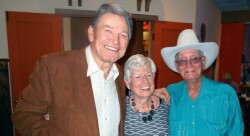 Please click to see a larger version.
A year ago, this webmaster replaced his main computer with a better one. During the transition, he received this photo on his laptop and, sadly, it never made it to Janet's website.
Pictured are Janet with Burton Gilliam and Don Reynolds. I presume this was at one of the Gene Autry luncheons back then. The photo is dated March 14, 2017. How very nice!
Kristyn Harris on
American Idol!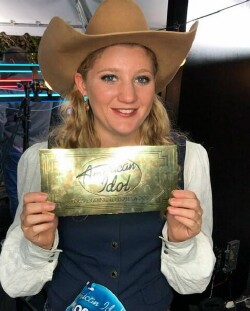 Please click to see a larger version.
Our Kristyn Harris auditioned for American Idol, and made it to Hollywood! Though she appeared there only once, since then she has been really booked, what with concert appearances and media exposure.
Below is the photo she used on Instagram regarding this experience, and then her very gracious words to go along with that photo on March 26, 2018: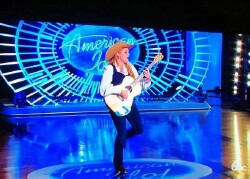 Please click to see a larger version.
If you tuned in to American Idol tonight, you now know that I am no longer in the competition running. BUT...while this has been the scariest process I've ever been through, I am only feeling grateful for it.
A brand new experience, a brand new path, a major opportunity...and one I didn't plan on at all until it came my way.
What learning and growing I did because of it, in countless ways. It also caused an even greater appreciation in me for the clan of folks that 'get' the type of music I do, that support me in it, and the lifestyle it stems from - and the fact that I get to do it for a living. It's every bit American, and I'm proud of that.
And rejection is part of every success story...
So here's to the music. And here's to the God who created it.
P.S. I am sorry that my singing portion in Hollywood didn't get shown - it felt solid, and I prepared hard on some high notes I don't very often do - but I was in awe of the singers that were around me there.
P.S. again - they quoted me saying that I planned my whole life around this, and well, so did everyone on the show. It's actually required to clear your schedule, there's no way around that. So thank you to everyone who put up with my schedule changes, even if I didn't get very far with this! However, what I didn't mean by that statement was that I was staking everything on this, because I wasn't. I'm gonna keep doing what I do, like I've always done, and I couldn't be happier about that. I've had so many opportunities and so many wonderful people around me for so many years - so here's to them!
Thank you again for ALL the support!!!!!!
Though many of us who wanted Kristyn to go further are sad, still...it's quite a testimony to her maturity and faith in the way that she responded. Below is another picture the webmaster found on his laptop from early last year, and it shows Kristyn performing with the Light Crust Doughboys. How nice that Art Greenhaw and company see the wonder of this young lady's talent!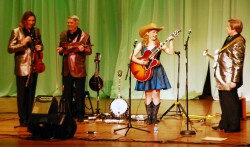 Please click to see a larger version.
Videos Should Be
Here Soon!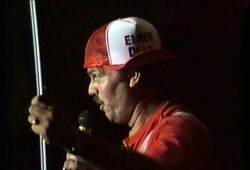 Please click to see a larger version.
This spring the webmaster is giving his computer system a "video upgrade," with new screen, video card, and recording device. We are hoping that video production of Janet's appearances and the Mesquite Opry will start sometime in the next two weeks. Meanwhile, here is a screen grab of Robert Tucker playing Elmer Dean in a comedy sketch dated May 14, 1988.
Mikki Daniel
Gets Engaged!
Mikki Daniel announced on New Year's Eve Day, 2017, that she had just become engaged to her beau, Brody Provence! All of the photos above will yield larger versions when you click on them. The first three show her with her ring, and her man.
Here is what she wrote in her social media posting:
The sunlight outside had faded into a soft glow, and the tent poles supporting the Cowboy Symposium's Friday Night Dance seemed to shake in time to Jody Nix's band. My boots slid across the newly cornmealed dance floor with a crunch and I twisted my toe and spun myself...ready to dance the evening away.
There's nothing quite like a dance floor covered with fresh cornmeal and a good band to dance to.
I was grinning. The kind of grin that envelops your whole face and you don't even realize how silly it might look because you're just so happy. That kind of grin.
In the corner of the room at the edge of the dancefloor stood a cowboy. Dressed to the nines and as handsome as they come, he stood with his dad and little brother, watching the dancers with an excited smile.
Then he looked up, and our eyes met, and we danced. We talked. We laughed and shared stories. And that was the beginning of the best time of my life.
Now, many of you have met him. He's as cowboy as it gets; he rides ponies, trains horses, and shares all of my hopes and dreams. He travels with me regularly to perform and is the biggest joy in my life.
Brody Provence, thank you. For being the best boyfriend a girl could ever dream of having. For being selfless and sweet, forgiving, kind spirited, good natured, adventurous, honest and full of Jesus. Thank you for putting God first and for always putting up with my goofiness! I am so excited, blessed, and DID I MENTION SO FREAKING EXCITED TO BE YOUR WIFE!
#CowboyGirl #Fiance #ISaidYes
On January 15, 2018, Mikki posted the fourth picture, along with celebratory news of her nomination for yet another award.
Here is her wording:
A HUGE thank you to Billy Bowles for everything he does to preserve these amazing genres of music!!! He announced the nominees for the AWA this past Saturday on his show, Swinging Country.
I just found out that I am in the top five nominees for Western Music Female in the Academy of Western Artists along with some of my favorite, and extremely talented ladies!!!! Thank you SO much for that honor!!! I feel incredibly blessed.
As are we, Mikki, to know you, and to follow your career and these wonderful events in your life!
Kristyn Harris on
Western Way Magazine Cover
January, 2018!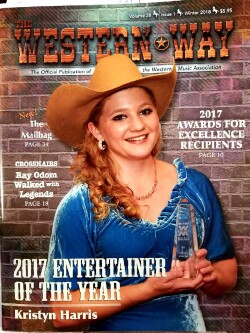 Please click to see a larger version.
Along with so many other honors, our Kristyn Harris is now a cover girl for the current (January, 2018) issue of Western Way Magazine. She had very few words to go along with this picture, except to say "Wow! Cover of Western Way magazine!" on Instagram.
What a wonderful testimony this woman of faith is to all who know her! Congratulations, Kristyn.
Yet More Mesquite
Opry Memories!
Here are still more publicity photos from the Mesquite Opry days as posted on Facebook in the Mesquite Opry group. Plus, there is an article referenced by Emma Tucker-Dixson when she signed her photo.
Along with the pictures, we posted the following words:
Outside of Janet McBride, Art Greenhaw, and the band, there were regular performers whom we looked forward to seeing each Saturday night. Two of those simply must be Robert and Emma Tucker. Emma has granted permission to share these photos of the both of them, with their autographs.
On the third, she mentions an article. Which forces me to have to post it with this group. I trust that it will be readable if you expand your Facebook photo to full screen [in the case of this website, when you click on the article photo, a larger version will appear, and you will be able to use the scroll bars to navigate while you're reading...because of its size, it will take a few seconds longer to load].
Said Janet earlier this morning upon being appraised of this post:
Yes on Emma and Robert. Before they were a couple, they were each doing a solo spot on the [Mesquite] Opry. She and Robert were great comedy for the [Mesquite] Opry, and we knew it.
Comedy, singing, songwriting: what talent we had, and what a great part Emma and Robert played in displaying that talent!
As is usual with any picture collection we put here, you can get larger versions by clicking on them.
From the Mesquite City
Development Group
Art Greenhaw invited this webmaster to join a group in Facebook whose focus is on Mesquite City Development. He also encourages me to contribute articles and photos which highlight the illustrious heritage of Mesquite, Texas.
On December 28, 2017 we were privileged to post the above pictures, and an explanation. Click on them to get greater size, and the words used are below:
One of the great events in the history of Downtown Mesquite, Texas was the way that the Texan Theatre kept flourishing, even after the Mesquite Opry s days& and kept producing future stars.
Never more so, of course, than with Clara Walker s Rodeo City Music Hall, having Karol Dyess as manager. And who should rise to stardom there? But Amber Carrington!
Under the guidance of both Clara and Karol, Rodeo City Music Hall never forgot its roots. Often there would be a reunion show, where some of the Opry regulars would be invited to perform.
January 14, 2006 was just such a night. Included here are pictures taken of Janet and John performing together, Karol as lovely as only Karol could be, Amber in a pose which reflects her depth of soul, and Amber with her beloved Paw Paw, where she also displays that depth.
Who knew then that, just seven years later, our Miss Amber would give a much talked about vocal rendition of Skyfall on national television?
More Mesquite Opry Memories!
Here are some more publicity photos from the Mesquite Opry days, in a continuation of our post below, but this time the serious ones are signed.
As for the fourth one, well& :-)
What great days they were! In this collection, you can see our Janet, the Band Leader Art Greenhaw, the Mesquite Opry Band en toto, and Emma Tucker-Dixson& doing what she does best! Bringing all of us a smile.
As is usual with any picture collection we put here, you can get larger versions by clicking on them.
Mikki Daniel:
"With a Grateful Heart"
On Christmas Day!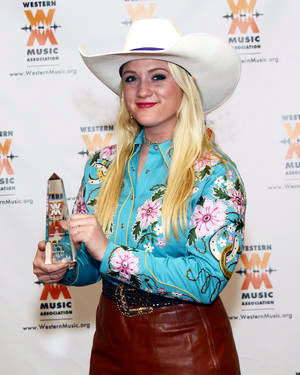 On Christmas Day, 2017, our Mikki Daniel sent out her newsletter, and what a blessing it was to read! Above is the photo which came with it, and below are the words.
Dear Family and Friends,
This time of year (Thanksgiving, Christmas, New Year) brings out so many memories and feelings for us all, me included.
I'm grateful for so many things:
my loving family
my loving friends
my loving horses
my music: fellow musicians, the people that hire musicians, the fans and friends I make through those gigs, the places I get to see and experience
my sponsors
my opportunity to go to school, make new friends, learn from talented instructors
I could go on, but you are a part of these feelings of gratefulness. Thank you for being a part of my life and making my life so full.
I'm especially grateful for your patience with me. I know that I have not been the best this year about communicating. Being in school full time, performing full time and training horses in between has taken it's toll on my free time which I previously used to write songs, stories and newsletters!
But in spite of the lack of newsletters, you have been faithful to think of me, follow me and encourage me. Thank You! From the bottom of my heart, thank you!!
This was so evident this November when I was humbled and honored once again to receive the WMA Female Performer of the Year Award! Wow! Voted on by WMA members, peers, fans, DJs and WMA judges, it overwhelms me that I received this honor again this year. I was totally stunned. Thank you!
I hope you are spending this day with loved ones, as I am. Although it's time to turn my attention back to them, I just wanted to take a quick minute to let you know that I was thinking of you on this special day.
A new year is around the corner and with it brings many more wonderful times together.
Much love and many blessings,
Mikki
Mikki, here's hoping you had the best Christmas possible, and we're all looking forward to your New Year!
Mesquite Opry Memories!
Earlier this year, Emma-Tucker Dixson allowed this webmaster to be a fellow-administrator of the Mesquite Opry group on Facebook. Every so often, he gets to post memorabilia from those wonderful Opry days.
Finally, just yesterday, he found his file folder of articles, flyers, and publicity photos from that experience, and began sharing some of them.
Each of the pictures above will yield larger versions by clicking on them. Below are the words that we posted on Facebook.
One of the beautiful things about the Mesquite Opry was the kindness expressed by its entertainers. Each one made a publicity photo, and several gave their autograph with a brief message.
Janet herself was always so busy meeting and greeting the fans that she couldn t do too many autographs. But I submit one of the photos I have of her from those days.
Every so often, her son Mark would join her on stage, and we fans loved it. Notice the tenderness to me in his words.
There were some who would later go on to bigger music careers, but the seed of benevolence was planted way back then. I have more than one picture of Gayla Dawn, but this one shows her kindliness most of all. I intentionally cropped off her contact information in order to prevent any conflict with present management.
And finally, in this post, Janet and John would allow me to use my computer to do some publicity for them. I was just beginning in the computer industry, and my offerings were a bit homely. But we contacted several in the area and, hopefully, made an impact.
I ve been threatening Janet that I d find my Mesquite Opry file folder sooner or later, and just yesterday I did. We have more of this sort of post to come. Happy Holidays to all!
Janet at the Gene Autry
Christmas Brunch with
Charles Williams!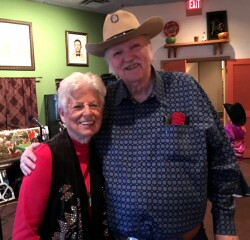 Please click to see a larger version.
When the webmaster first discovered this photo, he asked Janet for an introduction to the fine fellow. Here are her words:
The big guy in the Blue Shirt is Charles Williams. He is a writer of poetry, short stories, books etc.
He is a long time friend from years back who is and has been a 'fan' of all things Western and Cowboy.
You can introduce yourself to Mr. Willimas' poetry here. What a great photo of two great writers!
Kristyn Harris!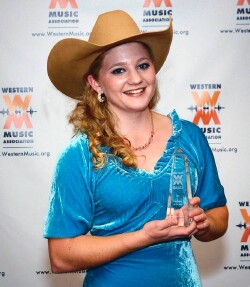 Our Kristyn Harris was, as usual, full of genuine humility about her second Entertainer of the Year Award with the Western Music Association.
When she presented this photo on Facebook, all she said was:
The official photo came in!
#WesternMusicAssociation #EntertainerOfTheYear2017
She was also modest when it came to her Dallas television appearance at WFAA-TV. With that, all she stated was:
Well this morning was awesome! Thank you Channel 8 Dallas!!
http://www.wfaa.com/features/kristyn-harris/497958382
#WFAA #GoodMorningTexas #GMT #Channel8
You can go to the WFAA video by clicking here. And Devon Dawson uploaded a YouTube recording here.
There is so much more going on with Janet and her mentees, but this is one for the history books. Congratulations, also, to Mikki Daniel who won Female Artist of the Year at the WMAs!
You can see larger versions of these two photos by clicking on them.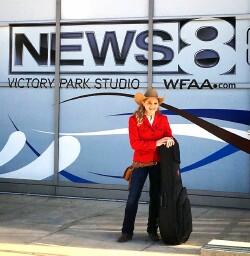 Cowtown Opry
March Gala, 2018!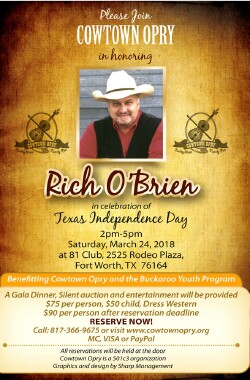 Please click to see a larger version.
On March 3rd, Devon Dawson posted this poster photo on Facebook, and gave the following comments:
We are putting out the word, and some of you have graciously agreed to come help honor Rich O'Brien for our annual COWTOWN OPRY fundraiser. We are scheduling our event at Billy Bob's "81 Club", on Saturday, March 24th, in mid-afternoon from 2p-5p.
We would like for as many of Rich's musical compadres as can come to be in attendance, and, if you are traveling to get here, we want to make it possible for you to book yourself into an evening venue in the DFW area, hence the mid-afternoon time frame.
Let us know if you can come be with us to honor this beloved artist and producer, whose influence has immeasurably strengthened the western music renaissance for the past 30 years. See attached poster.
Please be prepared to purchase a ticket, as this is our only annual fundraiser. Gift tickets are a very special idea for CHRISTMAS!
Congratulations and thanks to all involved in this annual Gala!
Janet Sees
LeAnn Rimes-Cibrian
At Choctaw-Durant!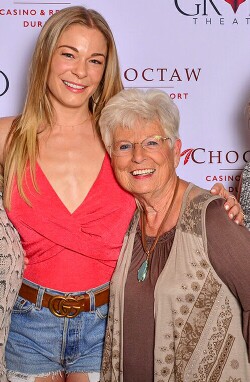 Please click to see a larger version.
Our Janet went up to Durant, Oklahoma to see LeAnn Rimes-Cibrian perform at the Choctaw Casino on July 1. This is the picture taken of the two of them. We will have Janet's words on the occasion in the very near future. And we'll be sharing this on social media today.
Thank you, Miss LeAnn!
Mesquite Opry Page
Now on Facebook!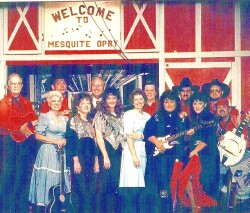 Please click to see a larger version.
Emma Tucker Dixon started a Mesquite Opry page on Facebook, which you can go to by clicking here. As of April 16, this webmaster was granted administration privileges to that page, which is such a great honor! Many exciting posts are planned.
Two Songs from
Janet's Newest CD
"Here I Am!"
Picking sample songs from Janet's newest CD was a difficult task, as there were so many favorites. Chosen were two that were not already on this website. You can click the little speaker icons to listen.


Who Is this Jesus Person?


Like You Did
Note from the webmaster on "hurtin' songs:" on the inside of Janet's CD, Tex and Mary Schutz refer, with great reverence, to Janet's "crying-hurting" songs. After years of theological studies, this webmaster would like to point out that these songs suggest a Standard of Right-ness.
In each one that Janet wrote, there is the teaching that a happy relationship, with loyalty and dedication, are the Right way to enjoy Romance. Congratulations to Janet for finally meeting her John Ingram--who fulfilled, for her, that teaching.
We will forego placing these on our Audio Page until after the webmaster has upgraded his computer system.
-o-