Happy Birthday Janet!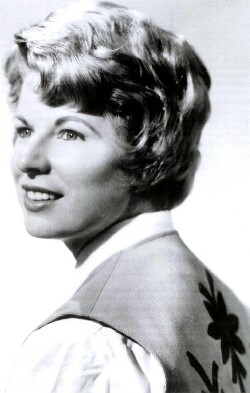 Please click to see a larger version.
Once again, it is time to celebrate Janet's birthday…and man, has she earned it! The actual date is April 5th.
Below is a poem I created and posted on Facebook for this day.
How oft she stood, upon the stage,
Her head bowed as she started off...
No sense of glory did she rage,
But sense of thanks as she would doff
Her songs, so many that she'd write.
And we would sit, in awe of grace
That her demeanor shone in light
That rose above the stage-top space.
It was her cheer to introduce
A younger group of singing stars.
How lucky was she to produce
Some there without the need of bars
Or honkey tonks to ply their trade.
And they'd go on to great success.
She reveled in the smiles she made,
While always western in her dress.
Oh, that we'd see her kind once more!
Oh, that there'd be more lovely songs.
We cannot help but miss her sore.
But still she's with us, midst the throngs
Who celebrate her music style,
Even though, now, all the while
Our "Country Music" lost its tone...
But ne'er to us who are full grown!
© Paul L. White
This webmaster is still in the midst of putting the finishing touches on his new Windows 10 install, and additions to the website are very close.
In the meantime, please stay well out there, and let's hear it for yodeling!
-o-
Christmas Present to Janet!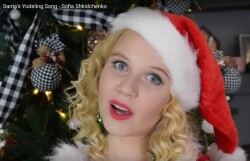 One of the most played songs on Janet's list, especially at Christmastime, is "Santa's Yodeling Song," co-written with Dell D'Lizarraga.
Here is the latest rendition, sung by Sofia Shkidchenko, known as "the Ukranian Cowgirl." She is just 12 years old! Janet received this YouTube link on Christmas Eve of 2019.
It is a very snazzy production, and full of dancing and humor. Miss Shkidchenko is quite the talent, and what an honor to have her give her spin on what is becoming a classic song for Janet during the holidays. Enjoy!
-o-