Janet's Paternal Family
Received Royal Awards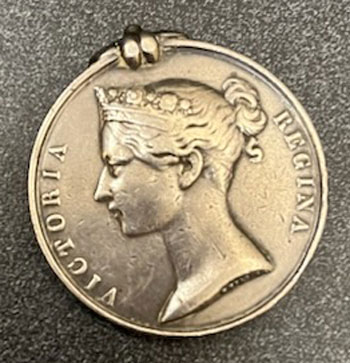 When Queen Elizabeth II passed away early in the fall, it jogged Janet's memory as to her family history, years ago, with the Royals. She has kept the medals won, and tells this story about them:
I have watched lots of the Queen's festivities. My gosh, what a special lady she has been.
My father's family ("The Listers") were in the Queen Victoria's Armys, and were in some of the wars ("India" as far as I can dig up).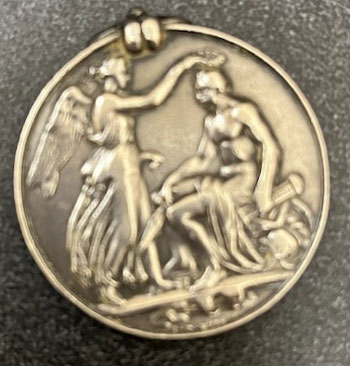 I have one of the "Medals" presented to one or two generations back where they were given "Given Land in Canada" and they settled there.
My father was a "third generation," I believe, but he died of appendicitis in 1912 or something like that...so my father never knew his father, and the family was left to make it best way they could.
By then the family was in America. My dad was born in Massachusetts. Pretty deep history, but I do have the "medal."
Congratulations, Janet, on having a family so honored by the then Queen!
Janet Remarks on
Loretta Lynn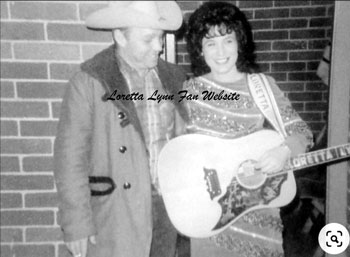 Please click to see a larger version.
When asked for comments on Miss Loretta, Janet replied with the following words:
When we came to Dallas in 1965, I was so excited when Vern Stovall and I were booked along with Loretta to be on a show in Princeton, Texas. It was a few minutes to show time when this big long black Cadillac pulled into the lot behind the building where we would be doing the show.
Loretta and Mooney bailed out, and there came Loretta with curlers in [her] hair, hurrying into the dressing room before show time. That was it.
I didn't get to meet her, or even say 'Howdy,' but I never forgot that she was just so 'normal.' Of course she became a very big name in the business, and was soon traveling in a bus and [with] her own band, but she never changed. SHE WAS TRULY A VERY BIG STAR.
I wish I had a photo with her, but I was never that close to her again. I sang a few of her songs, but I could never be Loretta. There was only one, and there will never be another.
I was a fan of her music, and I, at times, even sang a song of hers on my shows. But I couldn't even come close to doing them justice. She deserved all of the awards bestowed upon her.
Since Janet mentioned the year "1965," this webmaster searched online for a photo of Miss Loretta at that time. And we showcased it here. Thank you so much, Miss Janet!
Loretta Lynn
April 14, 1932 -
October 4, 2022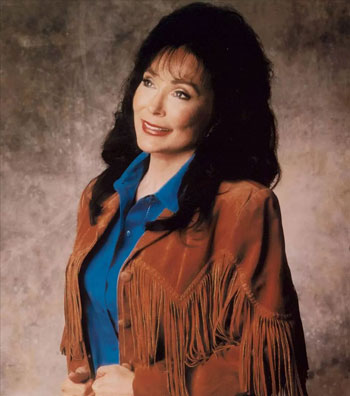 Please click to see a larger version.
As a young man, entering college in 1966, I still remember hearing our Janet's duet with Vern Stovall "I'm Wild Bill Tonight." That same year, Loretta Lynn came out with "You Ain't Woman Enough (To Take My Man)."
Both of these women held up standards in music and personal decorum that are seldom matched today. In honor of Miss Loretta's passing, more than one of Janet's mentees spoke out.
LeAnn Rimes: "oh, sweet loretta lynn...what a life! what an icon! what a trailblazer! what a beautiful soul! may she rest peacefully with the angels. my heart is with her family and friends."
"loretta lynn paved the way for so many of us women in country music. what a legacy she leaves behind."
Kacey Musgraves: "Loretta," with a broken heart emoji.
Robbie Helton [former husband of our Kata Hay--in response to Travis Tritt]--Travis: "She was always an inspiration to those of us [who] grew up listening to and loving real country music. Her kindness, strength and devotion to country music and her fans will be deeply missed. They don't make 'em like her anymore." Robbie in response: "Travis Tritt amen" with a prayer emoji.
The likenesses between these two women are so amazing, and the influence Miss Loretta had on those associated with our Janet so profound, that I had to include this on Janet's website.
Patsy Montana's Daughter
Passes Away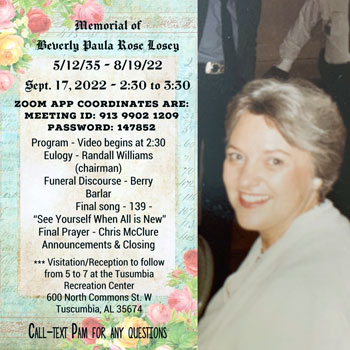 Please click to see a larger version.
Our Janet had this to say about the unfortunate passing: This lady was the daughter of Patsy Montana. Date of death is correct. I am not sure why the delay, but Beverly Losey was my friend.
Labor Day, 2022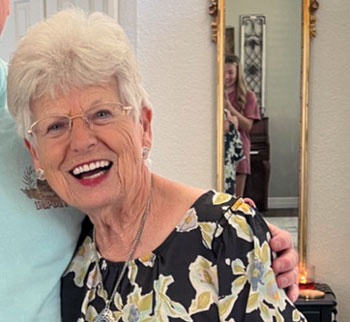 Please click to see a larger version.
Janet spent Labor Day of 2022 with her son and family, and someone snapped this excellent photo!
Janet wrote the following about her holiday experience: Labor Day was 'go to [my son] Claude's house to see baby.' I haven't seen her for a few weeks. I am still able to walk my 'almost mile' [each day], and I feel good. I am doing fine. Hope you are too.
Mother's Day Photo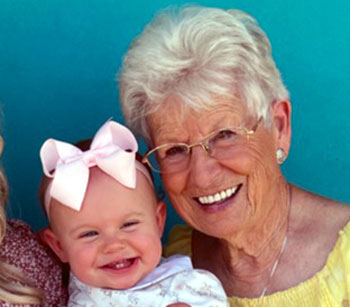 Please click to see a larger version.
Janet surprised this webmaster with a photo of her posing with her great-granddaughter for Mother's Day. How precious!
Happy Birthday, Janet!
Here it is the year 2022, and our Miss Janet had another birthday on April 5th. At the top of the page, you see one of the latest photos of her, and it's obvious she is doing very well.
For her website, and for social networking, Janet sent these magnificent words about her day. It is wonderful to get such good news!
Well, the day came and went and it was great. It began with a scheduled visit to the doctor [for a physical] at Southwest Medical Center which went good! My son Claude usually takes me due to the traffic.
Then it was on to lunch with Claude and Denise, which was yummy. Last night the others came over to this house and it was also a nice visit with all of them.
I heard from you and others by phone, cards, and text. It was a great day. God is good. Thank you for everything.
Lisa Lee:
Left Us
August 23, 2021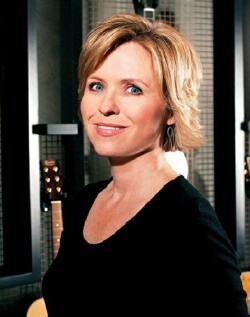 On August 25, 2021, the ACM had an awards show broadcast on the Internet. While viewing it, I noticed the announcement that Lisa Lee had just passed away two days before.
I thought I recognized the name, and Emailed Janet. Here is her immediate response:
Hi Paul, I did not know this information. I am shocked. Yes, this is the lady who came to my house.
Janet was overcome with grief. After some prompting to write a little tribute to Lisa, Janet responded with the following:
When the ACADEMY OF COUNTRY MUSIC was about to turn 50 years old they decided they would put out a book to tell the story, and to do that chore they hired a young woman by the name of Lisa Lee. She was highly recommended and she got the job. Her first questions were "who started this?" and "where are the files?"
As it turned out no one really knew and would they still be alive if she got some names? And without some old photos from the early days, it wouldn't be very interesting.
One of the people still living was Tommie Wiggins, and before long Lisa was talking to him. Tommie didn't have any photos, but he told Lisa that she needed to contact Janet McBride who was now living in Texas because she had a lot of the information she was looking for, including photos and lots of memorabilia.
I contacted Lisa and told her what I had and that I would give her the originals of my collection, but that she would have to come to Forney, Texas to get it because I wanted to make sure she had it in her hands and in her care.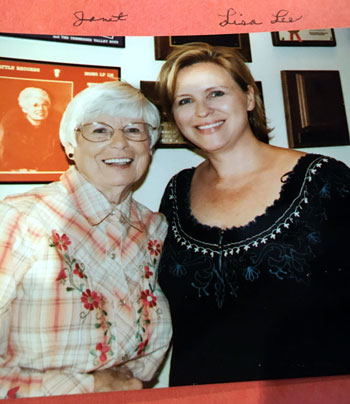 Please click to see a larger version.
On May 1, 2013 Lisa Lee and Nick, her camera man, were standing on my front doorstep in Forney, Texas. They came to pick up those "treasured items" that I had saved from 1963 and 1964, plus most of the items that were to PROVE what I had been saying for most of my life in Country Music (it started in 1963. Call it what you want, but nothing changes the fact that it began as the book says). The photos and the program for that night were in my possession and handed to This Great Lady and they are in the book. Tommy Wiggins personally signed each award for 1963.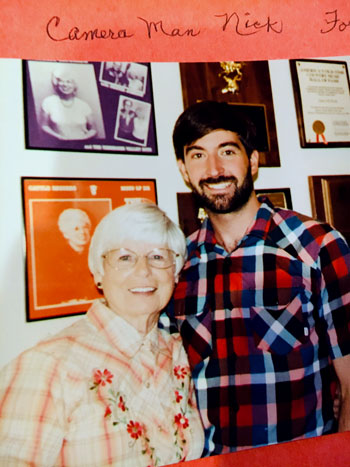 Please click to see a larger version.
THE ACMs OWE MISS LISA LEE A GREAT DEAL OF CREDIT FOR ACTUALLY DIGGING UP THE REAL STORY OF THE BEGINNING OF THE ACMs.
I will never forget you LISA LEE. Gone too early!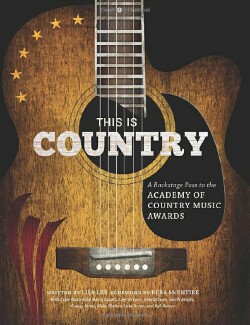 Please click to see a larger version.
Tommy Wiggins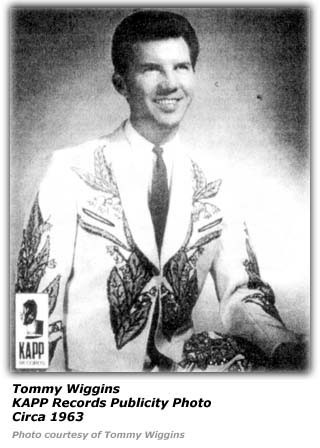 Janet recently received word that Tommy Wiggins has passed away. He had such an important role in Janet's career, and in Country Music overall, that she just had to speak up! Below are her words:
Tommy Wiggins' sister, Patsy, sent me a text informing me that he passed away in his sleep on July 19 (of 2021). He was one of the three people who started what is now called "The Academy of Country Music" in 1963-64.
The Academy did recognize him at the end of their 50 Year Anniversary Book, which was great! Lisa Lee was the gal who dug deep to find out who actually started it.
The first "awards" were not known as the "Academy," but the "Southern California Country Music Awards," and I won one of the Female Awards in 1963 and 1964. My first husband Claude McBride was a "DJ" at the big Country Music Station in Pomona, California, and by then I was getting lots of airplay, of course, although I was still employed at my "day job" at the aircraft plant.
My husband was "hanging out" in all the Country Music Spots/bars, and my name was everywhere. I was recording for a local Record Company, booking at local Bars, and filming for the TV Country Music Nightly Show, all while still working that "day job."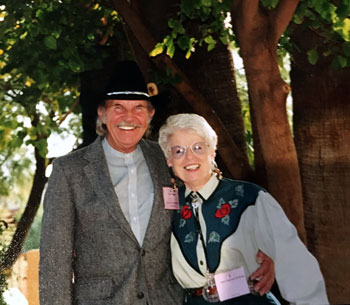 Please click to see a larger version.
Those people my husband Claude was "hanging out" with were the "scene people," and one of them was Tommy Wiggins. So you could say that was how I got my "foot in the door" with Tommy. He and Claude hung out in all of the places I needed to be to keep my name out there so, yes, Tommy Wiggins was there in the very beginning of my career.
By 1965 things were changing. The awards became the "Academy of Country and Western Music Awards," and people like Merle Haggard, and a host of Bakersfield Artists, were gaining popularity and they, of course, changed the scene.
I did not actually become personal friends with Tommy until 1992 or 1993 when I became involved with the "Western Music Association," where Tommy was a member. We stayed friends, and it was that personal connection with Tommy which brought our friendship alive.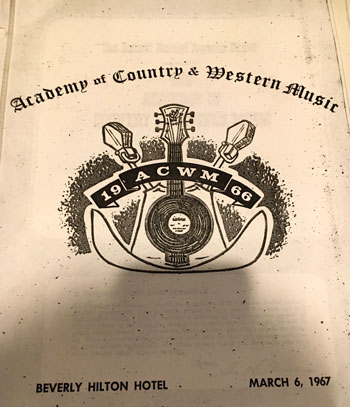 Please click to see a larger version.
It was also my Personal Connection with Tommy that surfaced when Lisa Lee started working on that fantastic "ACADEMY OF COUNTRY MUSIC 50 YEARS BOOK!" That's when I came back into play. She connected the early 1963 and 1964 information and, of course, found that Tommy was who started the whole thing. It was with my "scrap book information" that we proved the whole story...finally!
I did not want to make the Tommy Story all about ME but this is what happened. I wasn't involved with the beginning but Claude McBride was.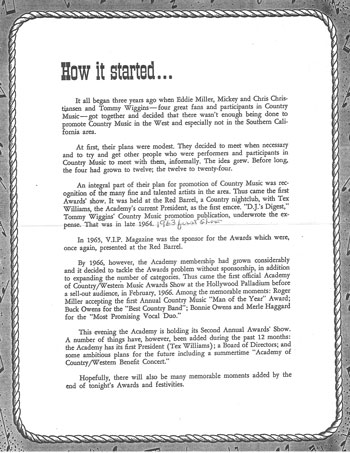 Please click to see a larger version.
This document is Patsy Montan's note to Janet
about the origin of the ACMAs.
I just went to Amazon and found the book. It has the "full page photo" there--full page of Tommy also. My writing is on some of those photos. They were from my collection.
When I got my copy of the book Lisa had personally signed and sent me, I stood in our living room and said aloud, JOHN LOOK, WE GOT THE STORY OUT. By then John was "with the Lord," but he would have been thrilled also.
They did give Tommy an award and gave me about 16 tickets to attend and we did. It was at the Ryman and a great night.
Here is the web address of the book Janet refers to on Amazon: 50 Years of the Academy
Immediately below is a display at the Academy of Country Music Artists Museum, showing Janet's Award Letter, and, as you can see, it is signed by Tommy Wiggins.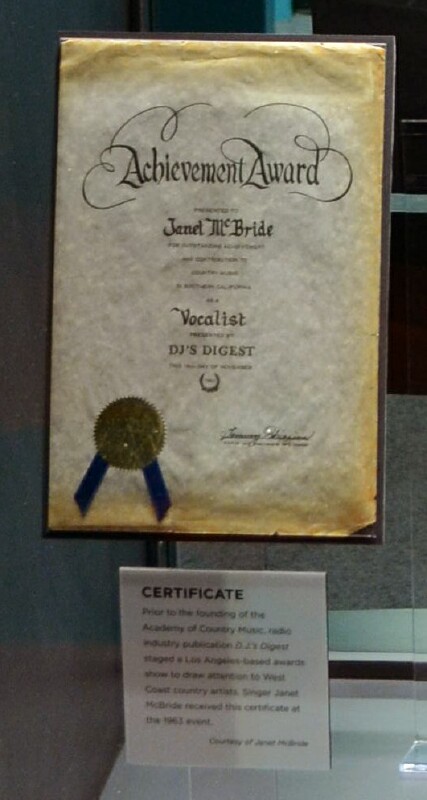 Happy Birthday Janet
For 2021!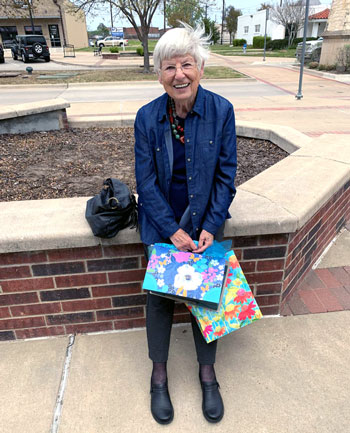 Please click to see a larger version.
Well, it was 2021, and Janet's birthday once again surfaced! Immediately above is a photo taken of her for her special day.
Below is a poem I created and posted on Facebook at Janet's page. Several responded, and shared how much they love her!
And so it's flown, another year,
A blistering, scathing one with fear
Around the globe, and yet you are
Still smiling, glowing, raised by far
To heights of soul that few do know.
And how refreshing is the glow
Which comes from speaking here and there
To your sweet kindness, set to bear
The things that life does throw our way.
And I now sever from Dismay
To choose, instead, for Victory,
And thank you for your faith toward me.
Happy wondrous birthday, Ma'am,
And may your tender, like a lamb,
Approach to life be ours as well.
Oh Joyous Day, Miss Southern Belle!
© Paul L. White
Janet wrote me that she had a wonderful birthday, and also that she did get her COVID shot. She is amazed at her good health, and how well she is feeling.
To y'all: please stay well out there, what with COVID and such, and let's hear it for yodeling!
-o-